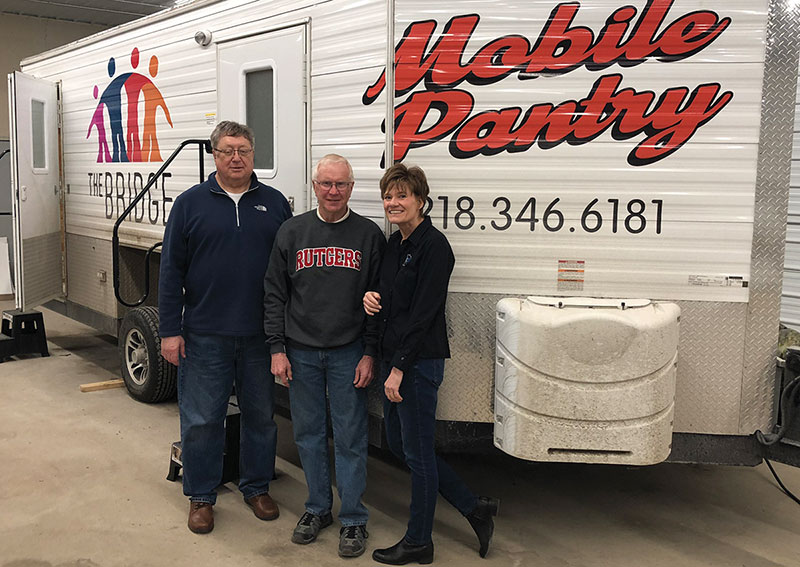 You may not be able to tell from its unassuming warehouse-style exterior, but The Bridge Community Pantry (formerly known as the Perham Food Shelf) is getting a makeover. It started with its mission, and then its name.  Six years ago, its board of directors, led by Rich McCrady, established four initiatives encompassing human resources and operations, public relations/marketing, outreach and facilities.
The food shelf expanded its scope to better serve the neighboring towns of Richville, Ottertail, Dent and Vergas by launching a mobile pantry as part of the Outreach Initiative, so the name just didn't match their reach anymore.  "We rebranded as The Bridge Community Pantry, as part of the Public Relations/Marketing Initiative, because we're bridging all these small communities," explained John Leikness, Executive Director. 
The Bridge Pantry was running out of room, an issue that is being addressed by the Facilities Initiative.  The Perham Lions who were instrumental in getting the current building constructed generously agreed to vacate their half.  This allowed the Bridge Pantry to double in size.  The current Board of Directors, led by Chair Fred Lehmkuhl, is guiding the expansion effort.  The entire building is now under renovation not only to better serve clients but also to store the Mobile Pantry unit. The Bridge was able to use a $5,000 WCI Community Change Makers grant to help with the expansion.
Mission-driven
Back to that mission. "We believe all people experience times of need in life," it reads. "The Bridge provides a temporary food source for families and individuals, in an environment of respect, caring and optimism." 
Leikness and the 40-plus volunteers he leads take that mission to heart.
"Everyone who enters the Bridge Pantry is considered a guest," Leikness said. "We always introduce the volunteer to the guest because the guest is the most important person."  From the moment they walk through the door, a volunteer greets them and walks them through the aisles where the guests get to choose their own items.
Leikness and Bridge volunteers understand that sometimes people have a hard time making ends meet. Maybe they are new to the community and need help to tide them over until their first paycheck. Maybe expenses have piled up. Maybe something unforeseen has happened. It doesn't really matter. The Bridge is there to help take some of the worry out of their lives.
Last year, the Bridge served 533 families.  These families made 2,119 visits.  Families can visit once per month if needed but most do not.  "Our experience is that families used the Pantry when the need arises and not unnecessarily.  
Along with the rows of canned and dry goods, there are freezers with meat and other frozen items. In the summer months, a farm to food shelf program helped them provide 198,000 pounds of fresh produce to their guests and the general public.  In the reception area, there are books for children to read while waiting, donated knitted hats for cold winter days, and seed packets available during the growing season.
The Bridge uses North Country Food Bank as its main source of food. It allows them to stretch a dollar five to seven times its worth. 
Leikness also cited the incredible generosity of residents. There are collection spots in grocery stores and local businesses make regular food donations. Churches, businesses, service organizations and individuals generously donate allowing us to complete our Mission.
"In these towns, it's the people of the community who get it done," Leikness said.
A strategic investment in our region
WCI's Director of Programs Wendy Merrick sees The Bridge Community Pantry as an example of WCI's new strategic plan in motion. "The Bridge does so much more than meet a basic need for food. It models neighborliness—which is a core value of WCI—and inspires being in relationship with each another—within communities, between communities and across the region."
Merrick believes that The Bridge is key to helping west central Minnesota achieve a United Nations sustainable development goal, "no hunger." WCI is using the 17 sustainable development goals (sustainabledevelopment.un.org) as a metric for building a strong, resilient region. 
Learn more about WCI's strategic plan at wcif.org/strategic-plan.html.