See how your grant dollars are being used.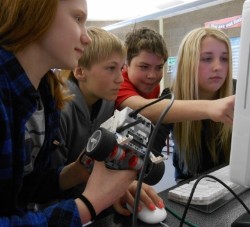 ---
Our Purpose
The goal of Breckenridge 846 Education Foundation, in conjunction with Scholarship Breckenridge, is to expand our students' lifelong learning skills through post-secondary scholarships, quality curriculum, and greater access to technology and state-of-the-art equipment.
We Help Our Schools Excel
The foundation funds grants requested by the school faculty that are beyond state and local taxpayer responsibility for basic education. These grants expand opportunities for student success and help our school achieve its mission of "Breckenridge Pride … Inspiring to Excel."
---
Giving Opportunities
The Breckenridge 846 Education Foundation includes three sub-accounts. Donations can be designated to a particular fund. If no designation is made, the donation will go to the General Education Fund.
GENERAL EDUCATION FUND
This fund gives the Advisory Committee flexibility in designating funds where most needed.
SCHOLARSHIP BRECKENRIDGE
The goal of Scholarship Breckenridge is to provide a scholarship to every graduating senior attending a post-secondary school. 
ENDOWMENT
This is the gift that keeps on giving. The principal is left untouched, while the interest will provide for grants. 
---
Foundation Advisory Committee
---
Make a Gift