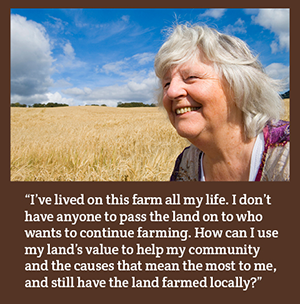 We recognize how important locally-owned, tillable farmland is to the long-term financial stability of our rural communities. That's why we launched the Heartland Giving farmland stewardship program.
Landowners are deeply and personally connected to their farmland. It is not just an asset; it is an important part of their way of life. For those who share this belief and have charitable intentions, Heartland Giving offers the opportunity to keep the asset in production and under local ownership. It also allows the donor to leave a legacy to benefit local charities that make the community stronger and a better place to live. The landowner can receive a tax deduction for the charitable portion of the gift, bypass capital gains tax, and reduce potential estate tax liability. WCI will continue to pay property taxes on the land so the county maintains its tax base. WCI will also make every effort to rent the land to producers from the area.
Once the gift of land has been made, WCI will retain ownership and manage the asset. The revenue earned from rental payments will be used to benefit charitable organizations as agreed by the donor and WCI. There are several Planned Giving options available to donors to best meet their needs and charitable goals.
To learn more about Heartland Giving, please contact our Donor Services team member, Rebecca Lynn Petersen, at 800-735-2239.
Donors are encouraged to consult with their financial advisors before entering this or any planned gift.