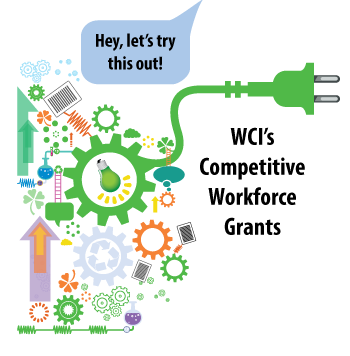 West Central Initiative is pleased to announce the recipients of its annual Competitive Workforce Grant awards.
The purpose of this grant program is to improve the economy of west central Minnesota by providing one year of start-up funding for stakeholders to launch new, promising workforce development strategies.
Here are the 2014 awardees:
Productive Alternatives, Incorporated (PAI) received $20,000 for its "Project Reach Out." Production needs at PAI are increasing, creating an opportunity for new workers to fill the production void. PAI plans to modify current production space and adjust current staffing to accommodate new employment referrals from the Rural Minnesota Concentrated Employment Program. This "first rung" experience gained by these workers at PAI will help them pursue employment with other manufacturers.
Alexandria Independent School District 206 received $25,000 for the high school's new Engineering, Manufacturing Technologies and Natural Resources Academy—one of four concentrated learning communities known as The Academies of Alexandria—that will begin in the 2014-15 school year. The small learning communities are an innovative approach to helping students develop career and higher education pathways as part of a 10-year life plan they draft for themselves in ninth grade.
The Fergus Falls Public Library received $6,205 to become a site for WorkKeys assessments and National Career Readiness Certificate (NCRC) testing. Up to 100 NCRC tests will be available at the library at no cost to participants. In addition, WorkForce Center staff will provide two WorkKeys/NCRC information sessions; and a business service specialist from the Department of Employment and Economic Development will invite area companies to refer their employees and job applicants to the library for NCRC cognitive and soft skills testing.
Minnesota State Community and Technical College (M-State) received $15,500 to help develop a Regional Center for Caregiver Education. M-State will host two Healthcare Program Showcase events to broaden understanding of the caregiver role and promote the value of that role as a driver of our regional economy. The showcase events will focus on healthcare careers in demand and will be coordinated with industry and high school partners.
The awardees were chosen because of their capacity to:
•Meet the needs of both employers and workers in west central Minnesota;
•Allow an organization to stretch and experiment with new ways to address skill shortages in west central Minnesota; and
•Test promising approaches likely to result in people securing jobs that pay family-sustaining incomes.
The next round of the Competitive Workforce Grant will be announced in early 2015.