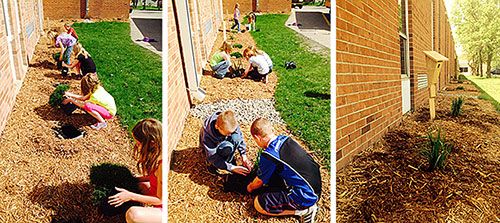 Just east of Lake Park-Audubon Elementary lies a nature area that is utilized for valuable teaching and learning opportunities for its students. Last year, a permanent shelter was constructed to encourage outdoor classes and observation. This year, the sixth grade teachers wanted to bring nature even closer to the school - right outside the classroom windows, in fact. In a project we were calling "Fresh Outlook," the entire east side of the school was landscaped to add dirt and rock for proper water drainage, as well as mulch and plants to beautify the school.
Birdhouses were donated from the DNR and strategically placed in front of classroom windows. We will be adding two cameras to observe the birds. These cameras will take photos periodically and place them on our school website/facebook/twitter accounts so that people can view them. As time goes on, our goal is to make them live streaming cameras, allowing people to view what is going on in real time. The software that runs these cameras was written by our technology coordinator, and the hardware will be running off of 80 percent solar power, to be a green initiative.
Students, teachers, parents, and community members helped with the planting process and the sixth grade teachers and students will continue to care for the new plants until they are established.
The students enjoyed planting the grasses and bushes in front of their classroom windows. Then they made sure to keep track of which plant was 'his' or 'hers'. They really took ownership in the work. We have also planted a school garden, so our students have a variety of valuable outdoor learning opportunities.
Thanks to student fundraising and grants from organizations such as the LPA Legacy Foundation administered by West Central Initiative, the students at LPA have a 'fresh outlook' on nature.
Kathrina O'Connell
6th Grade Teacher
Lake Park Audubon Elementary