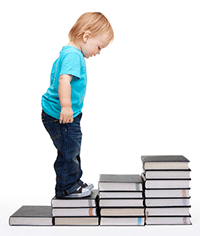 There is a lot for a preschooler to remember on the first day of school, like where the classroom is located, where to store backpacks, the names of classmates, and what the special signs for "quiet" and "listen" look like. The amazing thing is, at that tender age, children's minds absorb and process faster and more accurately then at any other time in our lives. Truth be told, learning begins the moment a child is born. As adults, we are entrusted to provide nurturing experiences, but if a baby or toddler does not have enough mental and social-emotional stimulation at home or in child care, he or she often starts developmentally behind classmates. Those first few years of school become even more critical to a child's well-being and mental acuity as educators work to narrow that achievement gap.
That's why the Minnesota Department of Education established the PreK-3rd Grade Leadership Institute. It's a statewide expansion of the PreK-3rd grade curriculum alignment forums previously held by West Central Initiative. The institute brings together teams of leaders from early childhood and early elementary education who are working to develop a seamless, coherent PreK-3 educational pathway designed to improve outcomes for all children, especially for those with high needs. WCI provides funds for teams from 17 school districts to attend.
The community-based and school district leadership teams represent key stakeholders who focus on programming and services for children from birth to age eight.
The institute engages leaders by reviewing current research and best practices in PreK-3 educational approaches, taking inventory of their current practices, and developing strategic plans for their communities to implement.
The teams also create a strategic vision and implementation plan using the Framework for Planning, Implementing, and Evaluating PreK-3rd Grade Approaches and the Minnesota Toolkit for PreK-3rd Grade Systems for Success, based on the work of Dr. Kristie Kauerz and Julia Coffman.
The PreK-3 Leadership Institute is facilitated by Kauerz and other national, regional and local leaders in the field.
LOCAL IMPACT
Stevens County ECI Coordinator Diane Strobel sees the PreK-3 Leadership Institute as providing the framework, time and funding to help the county's PreK-3 alignment team prioritize goals so each student is ready to transition to the next educational level.
"Our first priority is to assure that children come to kindergarten with the skills that will help them be successful," she said. "It was great to discover that the majority of early childhood professionals have been waiting for the opportunity to work together and are eager to obtain information to help them better prepare children."
Sam Skaaland is the principal of Lake Park-Audubon Elementary School.
"School boards and administrators are seeing the difference that can be made for children at ages three and four, and they are willing to supply resources to improve programs for these children," he said.
He has appreciated how the institute helps improve communication amongst a diverse group. "An opportunity for the exchange of ideas is always beneficial. We can learn from each other with the central idea of improving our programs," he said.
Effective communication is also a priority for the Clay County PreK-3 team. "It was been a real learning opportunity between school personnel and the centers that provide care for children prior to school entrance. In some cases, they were unaware of the work that each entity did," said Carolyn Strnad, Clay County Early Childhood Initiative (ECI) coordinator.
DESIGNING A PLAN FOR ALL YOUNG CHILDREN IN MINNESOTA
WCI is also a member of the statewide PreK-Grade 3 Design Team, consisting of state agencies, the Minnesota Initiative Foundations, the University of Minnesota, Greater Twin Cities United Way and the Minnesota Elementary School Principals Association. The purpose of this group is to create recommendations for a comprehensive approach from prenatal to 3rd grade that results in student academic and social-emotional proficiency.
Learn more about PreK-3 education. Contact WCI's early childhood staff Nancy Jost or Marsha Erickson at 800-735-2239.