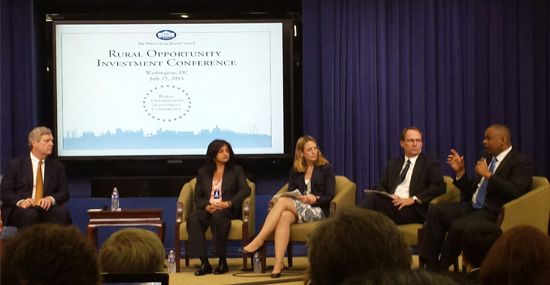 In July I was privileged to take part in the White House Rural Council's Rural Opportunity Investment Conference (ROIC).
On the day before the conference, a subset of the guest list for the ROIC spent the afternoon at Georgetown University Law Center (GULC) and also had dinner together that evening. I heard from friends who attended those events that it was an excellent session and some opportunity to talk one-on-one with potential investors. Most of those guests also attended the ROIC the next day.
The evening before the conference (you can view the agenda here: http://www.youreventinfo.org/1Day/Agenda.html), about two dozen rural practitioners gathered at the Aspen Institute to discuss key points we wanted to make at the ROIC. Our idea was that several people all stressing a handful of key points could have more impact. We split into working groups and came up with key points under the following categories: Repositioning Rural, Building the Pipeline of Deals, and Creating Innovative Financial Instruments. We did some good work, but the schedule for the ROIC did not allow for much time to provide input or feedback, network or have open discussion with the potential investors.
During the plenary sessions, there were comments about rural areas being a great place to do business because of the lower cost. That is a concern as it feels a bit like a race to the bottom to be positioned as the low-price leader. That is just one of the stereotypes we need to overcome with people who have no rural experience or background and who may not understand the long-term impacts of such an approach.
While comments about quality of life were often heard, it is hard to attach a monetary value to them. It was not clear to me whether or not the large investors would be willing to accept a rate of return that is a bit lower than market rates. On the other hand, I know at least one firm who has proven that investing in rural does not require you to expect a lower rate of return. And Doug O'Brien from USDA commented that investments in rural places tend to generate more GDP than investments in other areas, which is very promising.
One breakout session conversation focused on recruiting people to rural areas. A notable comment from one of the panelists was that they focus on promoting the mission of their organization to candidates, not the community. There was discussion about the privatization of things like gas, water, electricity, etc., in rural areas. Ohio DOT has a stretch of highway that is now privately owned and will be returned to the state in 30 years in like new condition. They referred to this as "P3" project, which stands for Public Private Partnership. This is a very new project and still considered an experiment.
Over the next year, the GULC will be convening a group on three different occasions to delve more deeply into the opportunities that were identified at the ROIC. The written materials they provided about that included a list of the types of people they hoped to attract to the working group, "private sector leaders, current and former government officials and academic scholars to share knowledge and best practices." I have sent emails and comments to the conference organizers and people at GULC expressing concern about a lack of rural representative on the working group, and have offered to help them identify some practitioners who could add to the discussion. I have not yet gotten any replies to my emails about that, but am ever hopeful.
Thank you all for your help and guidance. If you have more questions, please let me know.
Nancy Straw