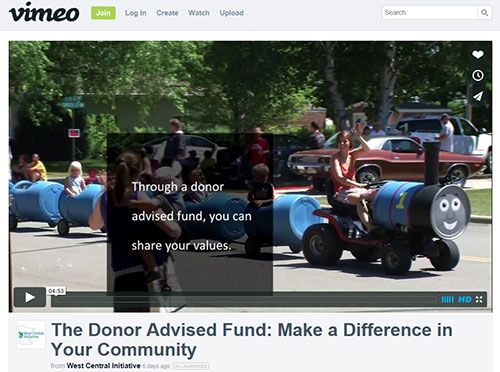 At WCI, we like to tell the stories of the donors who have made a difference in our region through WCI-administered donor advised funds and trusts. Many people have heard about Inga Johnson and Floyd Miller, who give thousands of dollars a year to nonprofits, even though both are no longer living. Then there are the Ekstrands, who give annually as a family, with every adult member having a say. In a new series of videos, VP of Development Kim Embretson tells us about the reasons people set up funds with us, and three nonprofits share why the gifts these funds provide are so very important to their cause.
Watch">http://vimeo.com/105387615>Watch now: "The Donor Advised Fund: Make a Difference in Your Community."
http://wcif.org/give/fund-options/donor-advised-funds.html> Learn more about donor advised funds.