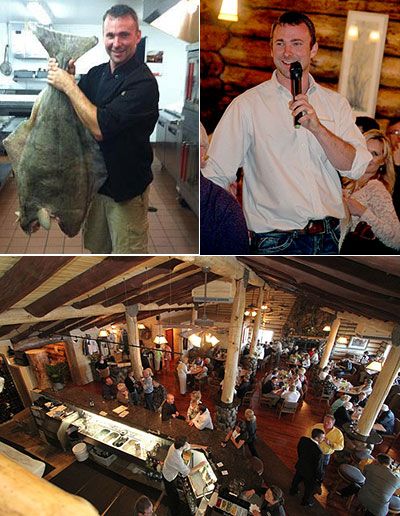 Here is another blog post in the series "The Promise of Place: Choosing Rural Minnesota." WCI President Nancy Straw shares her interviews of some of the fascinating people who live and work in west central Minnesota. Her mission: to find out why they chose to make their home in our region. Along the way, she hopes to pique other people's interest in living and working here too!
Would You Do It All Over Again?
How do you become a successful chef/entrepreneur in lakes country of western Minnesota? It helps if you love the area, don't mind hard work, enjoy your customers, and like to be in control of your own future. Making the decision to do it the first time can be tough, but making it a second time may be even tougher, and that is just what Josh Hanson had to do. More on that later.
Hanson leans back in his chair near the stone hearth that gives his restaurant its name, Spanky's Stone Hearth, as he settles in to talk about his restaurant and his life in Vergas, MN (pop. 331).
Except for a few years in college in nearby Moorhead, Hanson has lived in Vergas all his life. Even then, he worked part time at Spanky's under the previous owner. He admits that college was "not a fit," so he moved closer to home, continued to work at Spanky's and eventually bought the restaurant in 2005.
The Work is Hard, the Rewards Are Many
Spanky's offers "Casual Fine Dining in a Relaxed, Cozy Atmosphere." The business employs 60 to 70 people and is open year-round. From May to September they are open seven days a week with up to 400 customers per night, so Hanson lives life at high speed during those months.
The work is hard, but there are rewards, too. "One of the biggest satisfactions each night is the people that you get to meet, the different personalities," he says. Why Vergas? Franchises and chain restaurants are not interested in smaller communities, he explains, so he can really put his personality into his business.
Hanson has not punched a time clock in over 20 years and likes to be in control of his own destiny. "It's all about how you deal with the circumstances."
Hunting and Travel
During the slower months, Hanson travels and often goes hunting, either alone or with friends. It reinvigorates him and the trips have taken him to Canada, the West Coast, Argentina and New Zealand… so far!
When traveling, Hanson checks out other restaurants and brings back menu ideas. He likes to put a new spin on a dish so it is a bit different than other restaurant fare. On a trip to New Zealand, he stayed at a vineyard and came home determined to buy more local produce and protein and to learn more about sustainable production practices. Now, local foods feature prominently in his cooking.
Second Chances
In 2010, Hanson saw his livelihood go up in smoke, literally. It was during Vergas' Loony Days celebration— the busiest time of the year—the restaurant was completely destroyed by fire. This left Hanson with some tough decisions.
The insurance company gave him two weeks to decide whether or not he would rebuild. There was a lot to think about: prior to the fire, he had listed the restaurant for sale, having grown tired of the long hours.
So he went on a solo hunting trip to Montana to come up with a decision without the influence of others. He came back, "with a full desire to reopen the restaurant and give it a go again."
So What is it About Vergas?
Sometimes while waiting in an airport, Hanson will chat with other travelers. "Tell them you're from a town of 331 people, and they say, 'Is that a town? Do they have a police station?'"
But Hanson wouldn't live anywhere else. He enjoys his travels, but is always glad to come back home. He appreciates small town life for many reasons, including that people are self-sufficient. But if they need help, they know exactly who to call.
He feels fortunate that he can live close to his family and make a good living. Many of his family members are self-employed or own businesses, and while some have moved away for awhile, it seems most of them end up moving back.
He gets to make a living where most people only come to visit. Many of his customers who live in bigger cities try to find ways to spend more time in the Vergas area; he gets to be there all of the time.
Hanson sums it up by saying, "I'm in it for the long haul. Whether it's rural or urban, it's always competitive and there's always that spirit to be a little better than the competition. That's what keeps me going, you have to be innovative and I've always said competition builds ingenuity. I try to live by that."