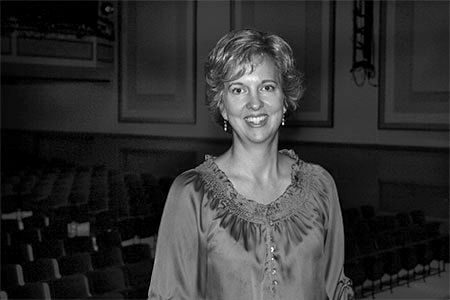 It's a very busy morning at the Historic Holmes Theatre and the Detroit Lakes Community & Cultural Center (DLCCC). The parking lot is almost full, with cars continually coming and going. According to Executive Director Amy Stoller Stearns, WCI's newest board member, it's a typical day. "We are well used—over 800 people a day," she says.
But what is typical for this unique combination of performing arts, fitness and aquatic center would be atypical anywhere else. "It's the only facility of its kind in the state," Stearns explains. Along with the theatre, fitness center, and swimming and recreational pools, the former high school building in downtown Detroit Lakes also houses the city's alternative learning school, an event center, senior center and "the second largest indoor playground in Minnesota," Stearns says.
It's not surprising then, that Stearns wears many hats in her work. She books shows, writes grants, manages staff, coordinates volunteers, markets the theatre and DLCCC, and presents often to area organizations.
She has collaborated with other organizations in the region to promote the richness of local arts and the natural beauty of west central Minnesota. "It is a gorgeous area. I feel we are responsible for helping to make it better," she says.
Even though she loves the area, Stearns encourages people to open their eyes to the world.
"Our tagline is 'step inside and see the world.' I really believe it is an important part of our mission—to bring incredible artists to Detroit Lakes. We want all people to enjoy our region—to fish, hunt, recreate—and to see world-class artists." Their performers are truly global. They have had troupes from Israel, Egypt, Bali/Indonesia, China and India. "We've had everything from classical to hip hop artists," she says.
Her advice to young folk: "Go off and experience the world. Then choose to come back, bring ideas and help us grow!"
Stearns did just that in her own life. She grew up on Otter Tail Lake and attended school in nearby Battle Lake. Between childhood and her current position, she traveled widely. She performed with Up with People throughout the U.S. Then she became a marketing/PR rep for the organization, which included even more travel. Following that, Stearns took a position with the Twin Cities' Carlson Marketing Group, which also required extensive travel.
"I wouldn't trade it for anything," she said of her years on the road.
But when a job opportunity for her husband brought them back to the region where she grew up, she was ready to return and share her skills, ideas and energy.
Stearns is active in a variety of boards and projects both in the community and statewide, including the Rotary, the Detroit Lakes Chamber of Commerce and the Minnesota Presenters Network. She and her family reside in Detroit Lakes.
"We know Amy will be a great asset to WCI with her experience in nonprofit management, her community involvement and a real commitment to the region, plus her energy and enthusiasm!" says Nancy Straw, WCI president. "We're pleased she has agreed to be a part of our board."