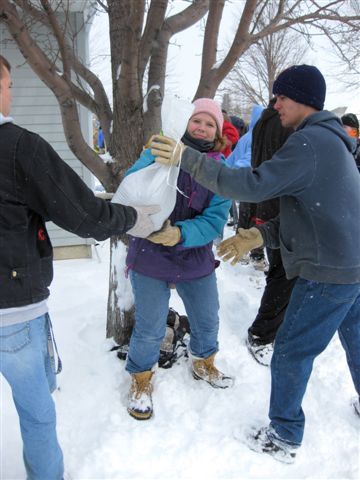 West Central Initiative is part of a group of foundations working on disaster preparedness, called PPREP (Philanthropic Preparedness, Resiliency and Emergency Partnership). The group represents a 10-state Midwestern region of the United States, roughly correlating with the watershed of the Missouri River. PPREP plans to meet for the next two years to help each foundation gain enhanced knowledge, skills, tools and capacity to improve how they and their communities prepare for and respond to natural disasters and strengthen our overall resilience.
As part of this effort, WCI staff members are meeting with emergency managers from the nine counties. WCI's role is to help the emergency managers inform the public, assist when necessary, and help funnel financial resources to the area in need.
During the 1997 flooding in the Red River Valley, WCI was able to secure Federal EDA funds to hire a flood coordinator for the region. More recently, WCI assisted individual cities affected by flooding with unrestricted grant dollars.
Amen for AMEM!
On a sunny September Sunday, I walked into my first session at the 2014 Association of Minnesota Emergency Managers (AMEM) Fall Conference. I wasn't sure if I would fit in, or if the information shared would be applicable to our work at WCI, but as WCI's PPREP representative, I was ready to learn all I could.
Four days and many training opportunities later, I can honestly say this was one of the best events I have participated in!
Why, you ask? The content was timely, technical and greatly expanded my knowledge of emergency preparedness.
What made it outstanding? The participants, trainers, exhibitors all made me feel welcome and a part of the training. Everyone greeted me with a friendly "hello" (maybe I had that deer-in-headlights look and it made them concerned), my questions were answered enthusiastically—clearly knowing that I didn't have a clue how something called IPAWS worked (that's Integrated Public Alert & Warning System for you newbies … like me)!
"See Something – Say Something" was a message heard throughout the four days. There were more than 300 attendees at the event, and there was not one person I met who didn't exemplify compassion and caring for others. I saw this, and now I'm saying something—a huge thank you to the many men and women who dedicate their lives to the safety and well-being of the residents in Minnesota.
Check out these resources for disaster preparedness and assistance. Don't forget to bookmark the page! Over the course of the next two years, WCI will share information on what is available for communities in times of an emergency. Continue to watch our blog, Twitter, Facebook, website and quarterly program report for updates.