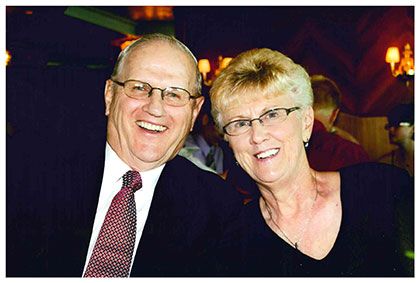 Always Close to Home
Jack Lacey lives within a block of where he was born and raised, near Wendell, Minnesota. He is not in the same house, fortunately—his dad had to get up on winter mornings and break the ice in the cook stove before they could start a fire.
Lacey and his five siblings had two rooms upstairs, boys in one and girls in the other. They slept three to a bed, with Jack in the middle because he was the youngest. If he curled up to stay warm, his brothers would get mad and say, "Keep your feet down!"
One cloudy evening, then seven-year-old Lacey sat outside with one of his sisters. Their dad said, "If it rains tonight, we're going to build a new house." So Lacey and his sister got busy praying for it to rain. It did, and they got that new house. Years later when he married, he bought a house across the road for himself and his wife, Sharon.
Farming Is a Family Affair
Lacey's dad had about 1,200 acres (nearly two square miles) of farmland. The plan was that each of his four sons would get half a section to farm. When Lacey started farming on his own, he had about 1,440 acres by himself and shared equipment with a cousin. Today, he farms with his son. They grow sugar beets, corn, soybean and wheat in planned rotation to keep the soil fertile.
A few years ago, Lacey had a group from Japan visit the farm. One of his guests asked him how much he would make that year. The question caught him a bit off guard–it isn't something rural Minnesotans ask each other. Lacey answered, "$100,000." Later, the same gentleman said, "If you can only make $100,000 how come you're farming?" The guest had done some quick math about Lacey's return on investment. Farming was a way of life, Lacey told him. "We raised three kids and gave [them] work ethics. It's been well worth it."
Lacey is mostly retired these days. He and Sharon travel, do volunteer work, and fill in on the farm when needed. He says his son "lets him" run the tractor--"the big one, with tracks and 560 horses"--and he feels he has the best of all worlds.
Mr. Lacey Goes to Washington
Lacey lobbied for the sugar industry for over five years, visiting with congressional representatives and senators. He has also served on many boards, including some for national organizations. When he spent time in DC, Lacey and the other farmers made it a point to wear suits to help dispel the image of farmers in bib overalls. It helped so much that sometimes people questioned that he was a farmer. Lacey always took pride in telling people where he was from and never felt that anyone looked down on him for being from a rural area.
Small Town Life
Lacey appreciates that things are different here than in large cities. For example, we say hello to people, wave to nearly everyone while driving, and make eye contact, he explains. He is proud of the culture here and believes that pride shows when he travels to other areas. Lacey also seeks people with the same types of values.
Lacey says, "Sharon and I have traveled a lot all over the world and there's no place like home." They like seeing the stars at night, having the freedom to do just about anything, and appreciate the opportunity to get away from large groups of people, noise and distractions whenever they want to.
He acknowledges that things have changed. Now he can drive a half hour and have the conveniences that people have in a major city. "We used to go to town once, maybe twice a week. We didn't go every day or multiple trips in a day. And now people think nothing of driving 20, 30 miles to buy groceries, and your doctor is probably at least that far away. We do drive further to do things than we used to."
When asked about the future of small towns, Lacey answers, "When I was a kid and growing up I knew everybody in town. I knew where they lived and what they did and they were a part of the community. Not today." He mentions people who came for jobs in the area, and others who came just hoping for better opportunities. Not everyone got the life they were seeking.
A Strong Faith
Lacey's strong faith comes through in his stories, from farming to mission trips. When you live in a rural area, you find out people aren't the ones who are in control, he says. He gives credit to his faith and partnership with God for helping him weather the uncertainty that can come with farming.
Life Has Been Good
Even with the risks of farming, Lacey says he does not take our good life here in the U.S. for granted and knows that our lives are very attractive to others around the world. He would like to see us protect the high quality of life that we enjoy here.
Life has been good, he admits. He has had a great place to raise a family. It is a way of life that goes way beyond a financial return on investment for Jack Lacey.