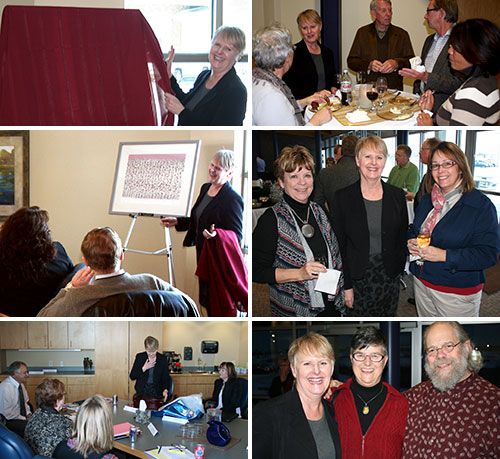 Nancy Straw leaves West Central Initiative to join the Ford Family Foundation in Oregon. At her last board meeting Nov. 13, the WCI Board presented Nancy with a framed woodcut print by well-known local artist Charles Beck, and also a beautifully engraved box. Following the meeting, WCI board and staff hosted a reception to honor and celebrate Nancy and her contributions to WCI and to west central Minnesota. At the board meeting, WCI Board Chair David Nelson read a letter he penned about Nancy:
Nancy has done so much in developing and shaping West Central Initiative as a recognized and well-respected leader across the state of Minnesota and nationally--truly representing the people and economic/community development while promoting philanthropy to bring successes to rural communities. She has been the eyes, ears and face of western central Minnesota rural communities. She could be called upon to make presentations and solicit dialogue on concerns and issues facing rural Minnesota and rural America. West Central Initiative has been privileged to have had her skills and talents in leading the foundation over the past 17 years, and I believe provided the energy level every day she worked to improve the lives of rural citizens.
Nancy is seen as a polished professional, who is politically savvy in developing relationships for West Central Initiative. In meeting Nancy you can feel the energy and compassion she has for the rural way of life when she speaks and writes of rural communities. If you read the blog posts Nancy has written about individuals who have chosen rural life, you can feel her passion for rural communities. Although she is moving west, we know that her passion and stories about west central Minnesota will be passed on for others to consider living in our region, which can offer as much or more than big cities.
On behalf of the entire West Central Initiative Board and Staff please join me in wishing Nancy and her husband Brad the best as they continue to her new position of serving rural communities. Best wishes for a successful future. An old saying--and now its true for Nancy: Go west my friend, go west. Job well done. Continue building rural lives as you move forward.