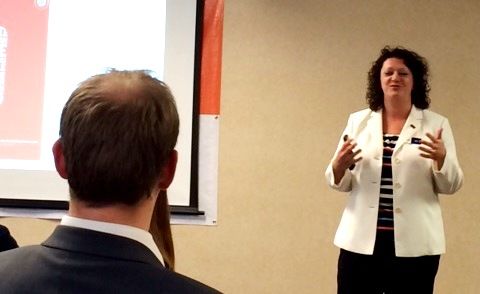 Oh to be young again!
I had the opportunity to have lunch with a great group of young professionals – the Young Professionals Network of Fargo/Moorhead. The energy level and interest shown throughout the lunch presentation and the tour afterwards were truly amazing! Not only did I get to sit next to folks WAY younger than me, but I also had the opportunity to catch up with an old friend, Sara Stolt (a founding member of the FM YPN), Giving Hearts Day manager for the Dakota Medical Foundation.
Sara's presentation at lunch provided some great pointers on how to tell your story--including showcasing some video examples from last year's Giving Hearts Day. Here are some of the thoughts that resonated with me:
Don't give to get. Give to inspire others to give.
Tell your story really well. Your story is the impact you have made and the changes you have seen in your communities.
Talk about your benefits – not your features!
Use imagery.
My favorite message was "Be Creative. Be raw. Be real." Thanks Sara for sharing your expertise with the 30+ young professionals (and one older one) at the YPN luncheon!
After the lunch presentation, we were also given a quick tour of the YWCA – Changing the course of her life. Her journey. Our Mission. Another great nonprofit serving a very important role for our communities. Empowering women to break the cycles of poverty and domestic violence. Here are some of the programs they offer:
• Emergency shelter
• Education & Employment
• Shelter Children's Services
• Shelter Faith Community Nurse
• Supportive Housing Services
• A Child's World Child Care Center
For more information about the shelter's services and volunteer projects, check them out at www.ywcacassclay.org.
p.s. Mark your calendars for the next Giving Hearts Day, February 12, 2015. Check in out at impactgiveback.org