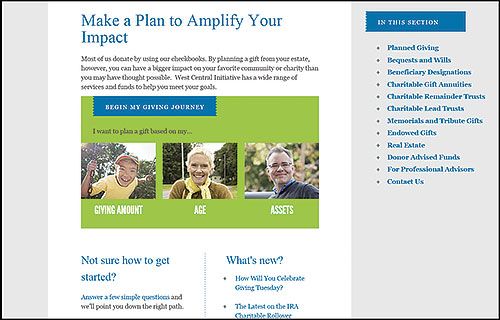 We are continually impressed by the generosity and kind spirits of the residents in our nine-county region. Because promoting philanthropy is one of WCI's main objectives, WCI has a charitable giving planning site that makes it easy for those who live and work in west central Minnesota to find information to help make wise charitable giving and estate planning decisions: wci.planmylegacy.org
WCI's donor services team Kim Embretson and Tom McSparron are available to go over information on this site, discuss your ideas and answer questions. You can reach Kim and Tom at 218-739-2239 (800-735-2239), kim@wcif.org or tom@wcif.org">tom@wcif.org.
Consult with your financial advisor about all your charitable and estate planning needs and decisions.
The latest news and information  on charitable giving and estate planning 
Personal estate planning kit
Sample bequest language
Gift Illustrator: What could your gift look like? What are the benefits?
Brochures guides on topics such as:
Making Your Will
Beneficiary Designations: The 3 Easiest Ways to Leave Your Legacy
Strengthen Your Future With a Charitable Gift Annuity
Trusts: Choose From 2 Win-Win Ways to Donate
Endowments: A Gift That Lasts Forever
7 Ways to Donate Real Estate
One-Stop Giving: The Convenience and Simplicity of Donor Advised Funds