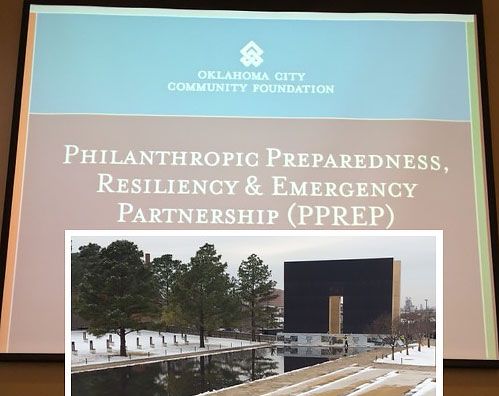 Interim CEO Sandy King and Economic Development Planner Greg Wagner attended a Philanthropic Preparedness, Resiliency & Emergency Partnership (PPREP) gathering in Oklahoma City. Sandy gives a snapshot of what she experienced during her time there.
Resiliency – Prepared – Partners
All important – weaved together by Love. Could it be as simple as "Love Thy Neighbor"?
Expectations. Learning. Friendships
So much more.
Faces. Children. Yours. Mine. Ours.
Flash.
Life changed – 60 seconds. Communities grieve.
Oklahoma Bombing.
Senseless act of human destruction.
Moore Oklahoma F5 Tornado.
Freak act of nature.
Babies, Mom's, Dad's, Grandparents, Uncles, Aunts,
Teenagers, all ages, all colors.
Life.
How did these communities get through this?
Life. Past Present Future
Honoring all 3 and remembering
Learning. See Something = Say Something
Don't ignore. Do what's right.
Love your community before a disaster. Make tomorrow a better day for those still here.
Your Neighbor, Sandy