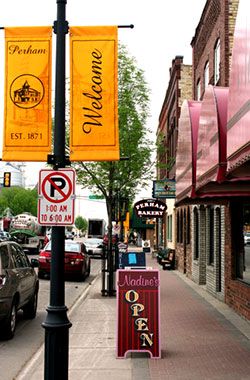 "We refuse to participate in the economic downturn."
This bold statement was seen on a billboard along Hwy 10 between Detroit Lakes and Perham, Minnesota.  And the billboard is right!  Recently, Dale Umlauf (VP of Business Development) and I had the opportunity to hear first hand all of the great activities happening in the Perham community at Perham Economic Development Authority's annual meeting
Here some of the highlights from the session:
2013 was a record year for building permits.
2015 will have seven street projects - a $5.8 investment 
According to permits issued so far this year, more than $10.3 million will be invested into the Perham area for building projects; including a remodeling project at the Public Library in excess of $550,000 
The Perham Resource Recovery Facility is going strong!  It provides steam power to three customers: Tuffy's, Bongards, and Otter Tail Power 
KLN projects and foreign workers
Bongards  - 130 employees strong
Workforce housing on the rise
Seasonal housing owners – an economic boom to the area. Encourage locals to know their seasonal neighbors – they are highly educated and engaged people
Arvig – one gigabyte upload speeds coming soon
New Perham High School bond project
There was also a panel that talked about the economic impact of the seasonal residents on their businesses. Great discussion and dialogue. Everyone left the meeting full of energy and excitement for Perham.  They certainly are not participating in any economic downturn in the near future!