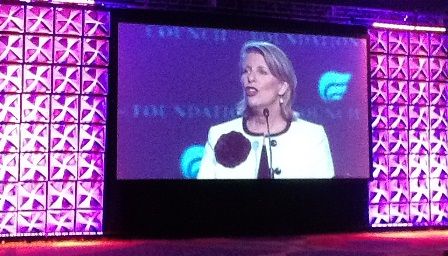 Interim CEO Sandy King and Program Assistant Deb Hegseth are in San Francisco at the 2015 annual meeting of the national Council on Foundations. The theme of the conference is "Leading Together." Here are Sandy's takeaways from the opening speakers:
COF President Vickie Spruill
Collective impact is what really matters. Ms. Spruill's message to us was: Harness our individual strengths for others. We have to give of ourselves to gain for all. This rapidly changing environment that we are in today will require us to honor and respect own vision and also reach for more, to come together through our funding and political power. "Lead together for a better tomorrow," she told us.
Walter Isaacson, CEO, The Aspen Institute
Mr. Isaacson's message was near and dear to me. It was one that I have spoken many times: "Listen to and learn from others." Philanthropy has to be open to constant reinvention, he said. Collaboration happens best IN PERSON. PERIOD.
He described leadership as a team sport, and innovation is a collaborative effort. Collaborative leadership happens in a way for innovation to go forward. Share the credit.
Mr. Isaacson also encouraged us to connect our passions to something larger than yourself. Question things in a way to be more creative. "You CAN stay true to your principals and still come together to work collaboratively," he said.
I didn't know that the opening speakers would solidify my recent thoughts, recent discussions with staff and board members. Wow.
The past few months I have had the opportunity to grow, to lead and mostly to listen. I have thoroughly enjoyed the journey. I loved a story of Steve Jobs that Mr. Isaacson shared. I will try and recapture it for you (and I'm paraphrasing here): I am fortunate to be standing beside the river. I can take many things from the river that have been placed there by people before me. But what really defines my life isn't what I take out of the river, but what over my lifetime I put in the river.
What will you put in the river?
Your listening partner, Sandy