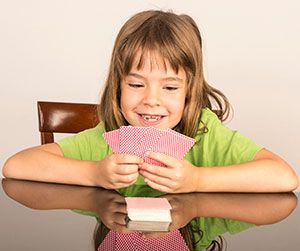 Decades later, I can still conjure up the "butterflies" of anticipation and anxiety I felt looking at my mother holding two remaining Old Maid cards. A solitary Phil the Plumber card sat in my own sweaty, little hand. I knew one of her cards was the Old Maid, and I did not want it! My four-year-old life hinged on that card selection!  Trying to read her facial expression, willing myself to see through the cards, I finally made my pick. It's Phil's twin!  I win! Oh joy!  I win, I win, I win!  I am not the Old Maid … but, wait.  That meant my mom was the Old Maid. She did not win. Even worse, she LOST!  She allowed me my moment of victory, watching the emotions roll across my face, then gracefully offered, "Good game. I guess it will be a rematch!"
Although I remember this game well, I didn't know at the time that my mom's attempts of keeping a squirrelly preschooler from dying of boredom one Sunday afternoon was also helping to hone my social skills—skills that are still with me and have formed who I am today.  
A kindergarten teacher once told me, "Give me a child who can make friends, take turns, stand in line and sit to listen to a story—a child with strong social and emotional skills. That is kindergarten ready! If a child comes to me with those social skills, I can teach them the ABC's and 123's." 
So how do we teach children social skills?  It was something my mom intuitively knew, and how I teach my own children: It is through play.
Don't underestimate the power of children's play.  Through free, imaginary play, children are able to manipulate the world around them, judging space and solving problems. Through the early childhood years, critical skills are gained most efficiently through play:
The simple act of rolling a ball back and forth with a one-year-old teaches a child many things, like how to take turns. The child imitates the partner's motion of picking up the ball and propelling it back. The child responds to the partner's joy of play with the same smiles, squeals and shouts. Smiling and playing release endorphins, the "happy" hormones that make us feel good.
Imaginary play, make-believe or dress-up allows children to make up situations and words and take control of their adventures. The safe environment of play lets children change plans, compromise on roles and elaborate on characters. When children pretend, they are actively developing their social skills.
Swinging through the jungle gym running away from tigers, battling pirates on a water slide, or even a structured game of soccer exerts children's energies in a positive way.  Children learn how to move their bodies and navigate their aggressions in a constructive way, rather then hitting, shoving or biting.
My mom had it right by teaching me card and board games!  I learned how to follow rules and to take turns.  I learned about strategy and how to read facial expressions. Most importantly, I learned how to be empathetic. It's a naturally good feeling to win, but with almost every winner, there is a loser. That doesn't feel as good. "Good game. I guess it will be a rematch!" was another way for my mom to say, "Sometimes we win, sometimes we lose. We need to understand how it feels to do both."
Those Sunday afternoon Old Maid card games are still with me. Those are the life lessons that are best learned on the sofa, snuggled up in a favorite blanket  in playful competition with someone you love.  I never became a card shark, but what my mom taught me was more valuable. She taught me how to play, and how to play with others.
May is Mental Health Awareness month. Mental health is synonymous with social and emotional development and play is a vital role in building young children's social skills.