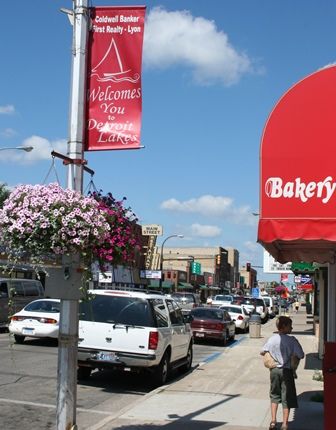 Picture this: Aqua-blue rippling water.
Leaves swirling on the shoreline.
Trees standing guard at the banks.
Quiet. Calm.
Where am I, you ask? Sitting on the shores of beautiful Detroit Lake. It's spring, the air is crisp and clean. Sounds of children playing can be heard. Laughing, giggling, and occasionally a stern voice is heard saying "stay out of the water!"
The daily commute is on. Cars are buzzing by, but there are no lines, no congestion. It's peaceful.
Later, on my drive through town, I pass many businesses and think "WCI assisted them. Oh yeah, WCI assisted them too. And them. And them…."
New roads, new infrastructure – again, WCI was there.
Sports team on the field – new equipment, sports uniforms – WCI was there.
Community and cultural center, supporting children and a health lifestyle. WCI was there.
Regional top-class health care facility. WCI was there.
People sporting "lake side" clothing. WCI was there.
Twenty nine years, many touches in this community (and 80 more communities throughout our region) – all because a few dedicated community leaders had a vision for the future; one where you could raise a family with livable wage jobs.
All of this while enjoying the natural environment that is abundant in west central Minnesota.
Yes, I choose to live here. Yes, I want my grandchildren to live here. Yes, I'm selfish that way. Why not?
Every amenity is here, plus family.
I've said this before, hats off to the founding leaders of WCI. Your vision lives on today.
My hope is for this vision to continue. Please consider giving back – yes – to WCI. WCI's Endowment Fund is here to help bring this vision into reality. But we can't do it alone. It takes ALL of us to build this dream.
Today. Tomorrow. Forever.
Are you ready to become a part of the dream team? Please consider making West Central Initiative part of your legacy.
Your dream partner for today and tomorrow,
Sandy
"We must not, in trying to think about how we can make a big difference, ignore the small daily differences we can make which, over time, add up to big differences that we often cannot foresee."