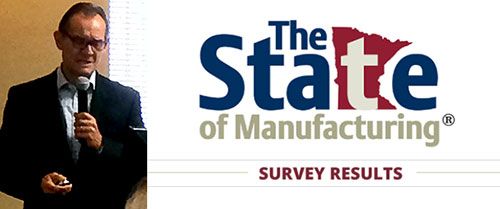 In a room full of business owners, educators, economic development professionals, and other interested persons, we heard a positive, upbeat presentation from Bob Kill, President/CEO of Enterprise Minnesota.  Bob shared the results of a recent survey of manufacturing companies (now in its 7th year of providing the data) to a group in Alexandria, Minn.  Enterprise Minnesota is in the business of supporting manufacturing companies in Minnesota. Its leader, Bob Kill, is a great advocate and voice for manufacturing. Over the past six months I have had the opportunity to visit personally with Bob, and his enthusiasm for Minnesota and business in this state is contagious!
The survey information was timely, and it supports the information you hear anecdotally from economic development professionals.  Overall, business owners are optimistic about their futures--but as Bill will remind you, isn't that what makes them successful as business owners?  A positive outlook remains a common theme amongst business owners surveyed.  There are concerns, however, and the top three identified are:
Health care costs
Government policy and regulations
Attracting and retaining qualified workers
Other items of note were that most businesses are recruiting for employee replacement (retirements) – not growth – even going forward.  Companies are increasing their investments in automation and technology improvements, and wages are up.
These are just a few of the findings of the survey.  For complete information regarding the survey go to: http://www.enterpriseminnesota.org/