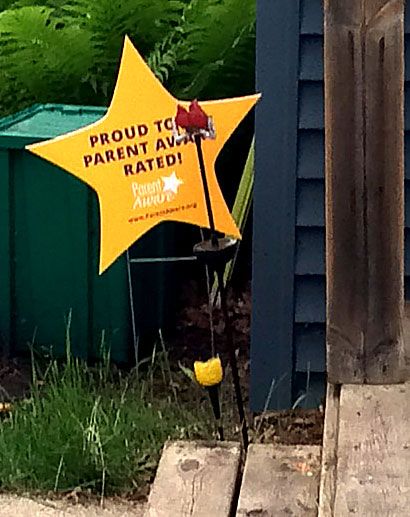 On an early-morning walk, not quite fully awake - you know, that morning brain fog? - I passed by a cute little star-shaped sign snuggled in against the landscaping of a house in my neighborhood. When my mind finally registered what I saw, I turned right around for a second look.  In fact, I had to take a picture and share it with my coworkers. It was a "Proud to be Parent Aware Rated" sign! If you don't know what Parent Aware is, it's a voluntary rating program for child care providers that demonstrates they have met quality standards in child care and early learning. What an awesome child care provider - one who is proud to be in the business of caring and educating our youngest people.  Thank you for going above and beyond, proud Parent Aware-rated provider! Thank you for showing that you care about those developing brains and that YOU realize what an important person you are to those trusted in your care - every day.
As a parent who entrusted others to care for my children while I worked at my job, I so appreciate all of the child care providers who nurture our young children. I'm so thankful that my child care provider loved my children like they were her own.  It made going to work every day possible.
West Central Initiative works closely with early learning and child care organizations to promote and encourage the Parent Aware program in our region. I'm proud to work for an organization that puts people first, including our youngest people. 
To learn more about the Parent Aware ratings in Minnesota, visit http://parentaware.org/.