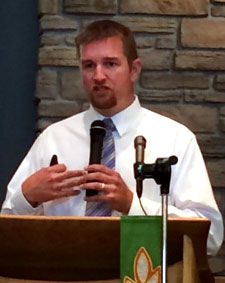 Hard work, determination and the ability to work together all paid off this legislative session for Minnesota's senior care communities. I was fortunate to be a part of Friday's local celebration, where PioneerCare CEO Nathan Johnson took time to say thank you not only to the local officials, but also to employees, community members, board members, media and economic development professionals. This past Minnesota legislative session was a winner for Minnesota and our growing elder population. The much-anticipated Senior Care Reform will become Minnesota Law, effective January 1, 2016. What does this mean? It means that rural nursing homes will be reimbursed for the actual cost of nursing home care. As stated in PioneerCare's media release: "To employees of long term care providers, the impact will be seen in their paychecks. While the specifics are not yet available, Johnson says the increase will be notable – even historical."
This is a win for all of Minnesota. More dollars in employees' take home pay mean more dollars to spend back into their communities. And it is a win for our growing senior population, knowing that they will continue to have quality care opportunities in their local communities.
WCI is committed to serving west central Minnesota, all ages, as we help communities adapt and grow for the benefit of all - ages zero and beyond.
Thanks Nathan, for inviting me to share in this wonderful celebration!