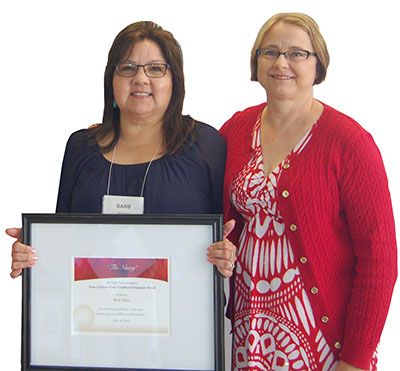 Last week, I had the pleasure of presenting the "Nancy Award" at the ninth annual Nancy Latimer Convening on Children & Youth. Created in 2007, the award honors outstanding contributions by individuals or groups to enhance life for young children and honors the spirit and legacy of Nancy Latimer. I was even more excited that I presented the award to my friend and champion for children, Barb Fabre. (That's Barb and me in the picture. She's on the left.)
Quite simply, Barb is amazing.
For more than 25 years, she has been making a difference in the lives of children and families in her community. In her role as director of the White Earth Child Care program, she manages many projects, a budget of nearly $1 million and a staff of 16.
On top of all that, she is also currently completing work on a psychology degree from Ashford University.
She has helped lead the way in creating Minnesota's largest brain development conference, which highlights important research and policy that can help benefit our youngest Minnesotans.
She never says "that's too hard" or "we don't have the money for that." Instead, she says "we can make that work here" and "we can make it happen."
She has been a powerful advocate for the American Indian community and the needs of Greater Minnesota.
Barb is on many state and national early childhood committees, including the Governor's MN Early Learning Council.
Barb is a doer—practical, pragmatic, enthusiastic, fun, optimistic and inspirational.
And though her career has brought her into contact with many, many, powerful people, she has never let that change her.
She has stayed true to her mission to improve her community.
I can't think of a better person to receive this year's "Nancy Award." Congratulations, Barb!