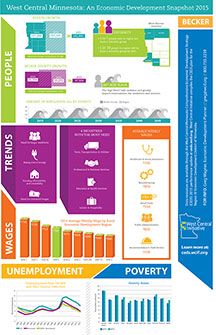 The phrase "socio-economic and demographic community profiles" tend to make most people drowsy just hearing the words, much less reading about or researching the make-up of their communities.  Let's face it, a 100-page document that is chart and text heavy or viewing a steady stream of tables and charts is not going to be a bestseller, and charts and graphs don't always make for the most captivating presentation (so I've been told).
So what happens when an economic development planner, communications director and graphic designer put their heads together?  The result is a "Just the facts ma'am" infographic focused on each of the nine counties in our region.  You may be asking "What an infographic?" Simply put, it is a graphical representation of information that is easily understandable at a glance!
Each infographic focuses on the highlights of the state of the economy for that county.  Information includes:
Population characteristics
Economic development trends
Industries with the most employment need
Average wages, unemployment and poverty rate.
The infographics have been a hit at all the presentations where they have been shared. And don't worry, for those of you who like all the detail, there is a link to the good ol' text document right on the infographic, and, as always, feel free to contact me if you want even more information or have questions at greg@wcif.org or 800-735-2239.