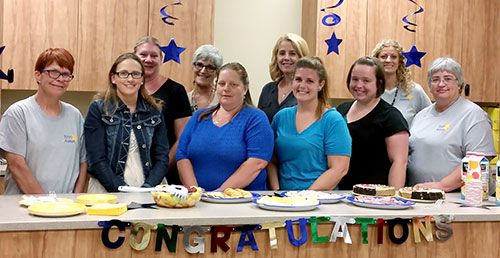 They may not be Hollywood celebrities, but 10 Clay County child care providers have achieved star status through the Parent Aware quality star rating program. On Thursday, Aug. 6, a "Star" party was held in their honor, to celebrate six months of long hours and intensive training and coaching through Clay County's Building Quality program, to achieve a Parent Aware star rating.
Parent Aware is the Minnesota state child care quality rating system where family-based, center-based and school-based early childhood care and education programs go through a rigorous coaching and application process. The purpose of the rating system is to assure parents that the child care providers they choose for their child's care has gone beyond the standards and are implementing kindergarten readiness practices within their programs. According to the Parent Aware website, "Programs that volunteer to be rated are going above and beyond health and safety requirements and have:
• Volunteered for extra, in-depth training
• Devoted themselves to strong, caring relationships with each child
• Adopted the latest approaches to keeping children's learning on track
• Committed to daily activities and routines that help children learn
"I am so proud of the extra work these providers have invested in their programs," said Lori Hopewell, Clay County Child Care Aware coach. "They spend long days caring for children. Then they spend evenings and weekends completing training and paperwork. It's a lot, but it pays off in the end. Their commitment to their programs and to the children in their care shines through!"
Child Care Aware and the Clay County providers have had additional support through this process. A grant for Clay County was received by West Central Initiative from the Mardag Foundation of St. Paul. Grant funds were used to hire an additional Parent Aware coach, offset training costs and provide funding for the cohort to meet and support each other through the Building Quality process. This funding will be available for two more years.
Other exciting news around Parent Aware is the expansion of the Early Learning Scholarships. The needs-based scholarships are available for parents whose child attends a Rated program. Up until this last legislative session, Clay County parents, along with many Minnesota parents in other counties, were not able to access the scholarships. For more information about Parent Aware or the Early Learning Scholarships, please contact Child Care Aware of Minnesota at 218-299-7000.
Photo: from left to right front row: Darcy Barry, Greta Miller, Brenda Nelson, Megan Weidmeier, Christina Zimmerman. From left to right back row: Wendy Blue, Kay Heidrich, Kari Penas, Parent Aware Quality Coach, Lori Hopewell. Not pictured: Rachel Jonason, Elizabeth Janssen, Holly Heiser