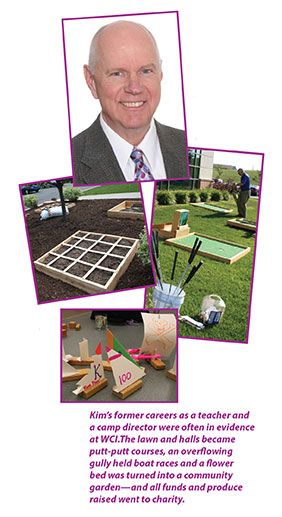 When Kim Embretson was interviewed in 2002 for donor services officer at West Central Initiative, he was asked, "If we hired you, what would be a personal goal for your work?"
"To be here when WCI receives a million-dollar gift," Kim replied.
When Kim retires from WCI as of Jan. 1, he'll be able to say that he helped shepherd not one but two $1 million gifts to establish donor advised funds. That's not the only impressive figure during Kim's tenure as a member of WCI's development team. The WCI Endowment Fund doubled from $15 million to $30 million, and component fund giving increased from $400,000 in annual grants to a high of $3.7 million—dollars that have made a substantial impact to the communities and organizations in our region.

In 2007, Kim was promoted to vice president of development. For the past six months, he has been in "worktirement," as he calls it, testing out the retirement waters while still working for WCI as a part-time development officer.
What are some of the highlights from his 13 years? "A bright spot for me has been working with quality community leaders who love and have dreams for their communities and are eager to partner with WCI to fulfill those dreams," Kim said. "Another joy has been working with the high-quality staff at WCI who made the work fun, challenging and worthwhile."
Kim also enjoyed seeing the growth and success of WCI's school foundation component funds. "I taught third grade for six years, so I know it takes special effort to motivate and support teachers to go above and beyond their already substantial workload. I've enjoyed working with people who are united for the advancement of education, and sharing WCI's resources to help raise the funds to make grants that inspire teachers to go that extra mile. And then to see students respond to those inspired teachers has been very gratifying," Kim said.
Just like 13 years ago, Kim has personal goals for his retirement. "Along with the standard lines of 'hang out with grandkids and travel more,' I want to become physically stronger, grow spiritually and do creative activities," he said. He already volunteers as a board member of the Kaddatz Galleries in Fergus Falls, where he also takes drawing classes. He plans to further spark his creativity by making videos for families to help share their stories and photographs.
Come wish Kim Embretson well. WCI will host an open house for Kim at our office on Thursday, Jan. 21, from 11:30 a.m. to 1 p.m.