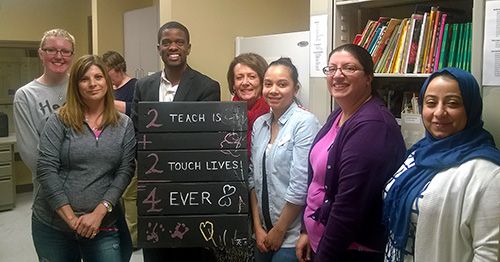 It was a defining moment in Melvin Carter's career trajectory. When he was a St. Paul councilmember, working with the Promise Neighborhood project, a young, struggling mother approached him after a city hall meeting. She was frustrated with the lack of cooperation between the city and the school district. When he started to explain how the two entities were different and had separate funding sources, the mother interrupted him. "Mr. Carter, I don't need a civics lesson, I need a job and I need help with my child!" It was at that moment he began putting children and their families as the focus of all his decisions.
Now, as Minnesota Governor's Children's Cabinet Executive Director, Carter works as a direct advisor to the governor and a liaison for the Minnesota Departments of Health, Education and Human Services. Yet children and their families continue to be his focus.
In Moorhead on April 28 for a Greater Than MN meeting coordinated by First Children's Finance, Carter gave a legislative update and rallied those gathered to do "something" for our children. He urged those gathered to seek child care answers locally, but to know that partners are available at the regional and state levels to help—like West Central Initiative, First Children's Finance and Child Care Aware. "No one knows your community better than you, but you can't do it alone," he explained.
The day also included a visit to the Moorhead Lakes and Prairies Head Start facility where staff demonstrated a children's mental health coaching model and shared their insights on children and families. "We need a space to better support the needs of our children and their families," Director Kristin Phillips said. Staff members chimed in that the families they work with need help with housing options, transportation barriers, chemical dependency, and jobs, along with quality child care.
The group continued on to Minnesota State University—Moorhead's Early Education Center, where Carter spent time playing with the children and admiring their batch of newly hatched ducklings! The staff and education professors from the school talked about the future of early childhood education and the need for better pay and benefits for graduating students.
Carter said the state is working on increasing the rate for child care assistance (CCAP), although that is only a part of the overall formula for better pay. The current CCAP rate only covers a small portion of child care. Families cannot afford the difference, especially a place that charges higher rates to pay staff better. The good news is that people are talking about child care and early childhood education. Key decision-makers, who have never been a part of the conversation, have joined the conversation, and that is when change pushes forward.