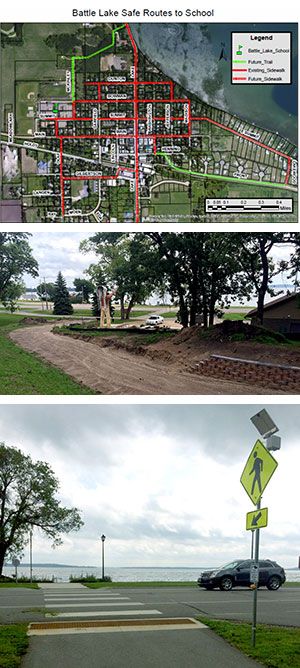 We love it when a plan comes together—especially one West Central Initiative helped develop! This summer Battle Lake began construction of three elements of its Safe Routes to School (SRTS) plan, which was written by the staff at West Central Initiative in 2013, in partnership with the Minnesota Department of Transportation. Having a SRTS plan made Battle Lake much more competitive for the SRTS Infrastructure Grant funding used to implement the plan's suggested city street improvements.
The three street projects include:
Sidewalk construction on two more critical routes:

A new sidewalk will connect the school with the proposed youth center. 
Another sidewalk is wrapping up construction on Main Street from Roosevelt to the downtown on Lake Street.     
A new, paved multi-use trail that will connect the school to the Glendalough Trail and the city neighborhoods served by that trail on the northeast shore of Battle Lake. 
An newly installed crosswalk with a rectangular rapid flashing beacon (RRFB) where the Glendalough Trail crosses Lake Street (MN Highway 78).  An RRFB is a pedestrian push button-activated lighted beacon using high intensity LEDs that warn drivers when pedestrians are actively crossing.
With these improvements, along with others planned for the future, all students living within an appropriate distance will soon have suitably safe facilities to walk and/or bike to school, which is showing to be a critical way for children to get the physical activity they need to develop strong bodies and sharp minds. The beauty of SRTS improvements is that they serve so many more than just the students. All residents and visitors to Battle Lake will now have additional safe places to walk and ride bikes for fun and transportation. This increases the Battle Lakes "livability," which is increasingly desired by younger adults as the seek places to live and play.
Unlike a hired consultant, WCI's role in assisting communities with their SRTS efforts doesn't end once the plan is finalized.  WCI planning staff is always available to any community in our region seeking SRTS (or other bicycle, pedestrian or trail) technical assistance. WCI staff continues to meet with the Battle Lake's SRTS team on a quarterly basis ever since the plan was completed three years ago.
Read Battle Lake's and other communities' SRTS plans.
Andrew Besold is West Central Initiative's transportation planner. If you'd like to learn more about SRTS, contact Andrew Besold at Andrew@wcif.org, or 800-735-2239.