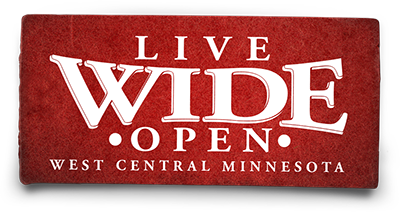 New movement invites people to return, move to, and yes, stay in west central Minnesota
Fergus Falls native Nancy Valentine could have moved anywhere after earning her degree from the University of Minnesota Duluth. She chose her hometown. "I came to the weighty realization the summer after I graduated college that my grandparents are aging and I wanted to spend as much time with them as I could," she said. Another reason she moved back was for the rich local arts scene. Along with her positions as E-911 dispatcher for the Otter Tail County Sheriff's Office, and marketing and membership coordinator for the Otter Tail Lakes Country Association, she is known locally as an artist and musician. "The opportunities to become involved with arts and music in this area are more widely available to me than they would have been in a larger city," she explained. Any given week may find Valentine playing her ukulele at The Spot's open mic night, volunteering at the family art table for the Kaddatz Galleries, or setting up her easel around town to work on her own plein air pastel paintings.
"Nancy's story of returning home to be near family and taking advantage of all her city has to offer is one we hear often as we visit communities," said Brad Barth, president of West Central Initiative (WCI), a regional community foundation serving nine west central Minnesota counties. "Another story we hear just as often from employers is the lack of skilled workers in our region. It seemed obvious that there was a potential workforce in the people with connections to our region who may not realize that all the career opportunities available here."
West Central Initiative tapped the collective wisdom of the West Central Minnesota Labor Develop Council to initiate a new campaign called "Live Wide Open." Live Wide Open showcases what the region has to offer, including opportunities for rewarding careers while living close to family, friends and the natural amenities that continue to draw many to west central Minnesota.
What Live Wide Open means
"Live Wide Open can mean many things: certainly the wide open spaces of rural Minnesota, but also having the breathing room to make a good life for yourself," said WCI Communications Director Sheri Booms Holm. "It's where you don't have to fight traffic gridlock, where the recreation you love is at your doorstep instead of a three-hour car drive away, and where you can make it to your kid's ball game in 10 minutes. Live Wide Open can also mean opening up your capacity to do what you love or what you've always dreamed of doing. There are a lot of opportunities for work and for starting your own business in west central Minnesota."
Holm lived in the Twin Cities for more than two decades before "taking a leap of faith" and moving to Fergus Falls for her position at West Central Initiative. She and her husband Perry do not regret the decision. "We've immersed ourselves in all things local, from the art and food that we buy, to the festivals and events that we attend," she said. "Our friends and family often comment that we always seem to be doing something fun or interesting. We look at ourselves as ambassadors for the region, and that's exactly what WCI is hoping people who live here will become for Live Wide Open."
WCI recently launched the Live Wide Open website, livewideopen.com, which includes stories of people who have chosen to live and work in west central Minnesota, as well as featuring cities, counties and employers. Live Wide Open also has both Facebook and Twitter pages, which can be found at #livewideopenmn.
"We invite people to visit the website and social networks and tell their own Live Wide Open stories," Holm said. "We also encourage employers in the region to become a Live Wide Open partner. The more career opportunities we can share, the better it is for our whole region."
Barth agreed, "We know a lot of businesses, communities and counties do their own publicity. Live Wide Open encompasses all the good work already being done promoting communities and local jobs. It promotes an entire region in areas that perhaps other workforce marketing campaigns are not reaching, then invites the people who are interested to learn more about the community, county or job that fits them best."
Visit LiveWideOpen.com or contact WCI at 800 735-2239 or livewideopen.wcif.org to learn more.