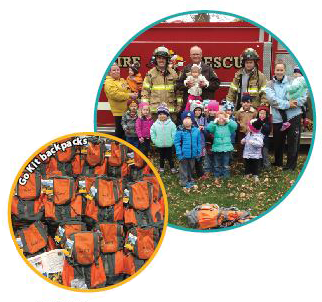 Jumping up and down with squeals of delight, the group of small children watched wide-eyed as a fire engine pulled up in front of them. Fortunately, the responders were not there for an emergency, but for a special outreach to Grant County child care providers. 
Grant County Early Childhood Initiative (ECI) Coordinator Deb Hengel worked with Grant County Sheriff Dwight Walvatne and Tina Lindquist, county emergency coordinator, to visit all 17 child care providers in the county. In each community, they were joined by a local emergency responder, including the police chief in Ashby, an EMT in Hoffman and fire fighters in Barrett, Elbow Lake and Herman, who arrived in full gear. "Seeing them in full gear can look scary, but the kids learned that they weren't scary at all but helpers," Hengel said." In fact, at many of the homes, they even helped the kids put on their coats and shoes to go outside and tour the emergency vehicles."
Billed as "Hero Day" in Grant County, the visits were much more than a treat for the kids. It was an opportunity for the providers to meet local emergency responders. In addition, each provider received an emergency Go Kit backpack that contained a solar crank NOAA radio with a phone charger and an emergency light, a first aid kit, emergency blankets, a book, Bear Feels Scared, and a packet of emergency preparedness information for both providers and parents. Providers are encouraged to customize the kits for the children in their charge. 
"The visits were a win-win for all involved," Hengel said. "The providers loved it. They all saw the value in [emergency preparedness.]"
Uniting ideas and resources
Grant County's Hero Day events were just one of seven similar projects happening throughout west central Minnesota this fall. West Central Initiative offered special $1,000 emergency preparedness grants to all of the region's ECI coalitions, thanks to funding from the Philanthropic Preparedness, Resiliency, and Emergency Partnership ( PPREP), a project of the Funders' Network for Smart Growth and Livable Communities. WCI is part of a PPREP Midwest cohort of foundations. Grant County supplemented its PPREP grant with additional local funding.
While brainstorming potential regional emergency preparedness projects, WCI staff and PPREP cohort participants Greg Wagner and Sandy King looked at the areas where WCI has the most impact. "We wanted to springboard off of the work the ECIs already do and the connections they have already established in their communities," Wagner said. "We saw this as a good opportunity to strengthen the relationships between the early childhood community, child care providers, first responders and emergency management staff. The PPREP grant also assists ECIs with reinforcing a child care provider's ability to be prepared for a disaster and to recover and resume operations after the immediate disaster has passed."   
Why this matters for an entire community
Child care providers have a unique place and role in times of disaster. Their ability to be prepared and quickly recover post disaster is instrumental in the overall recovery process of the community.
"When parents know their children are safe and being taken care of, they can focus on the tasks at hand as homeowners, employers and employees, and help move the community toward recovery," Wagner said. "Disasters also create special circumstances that can add to the type of care and needs for children.
Developing the relationships and identifying the resources available prior to the disaster are vital in order for child care providers to rapidly respond to these special circumstances to continue to provide the best care."  
Download disaster resources for child care providers at  http://wcif.org/news_resources/disaster_resources.html.