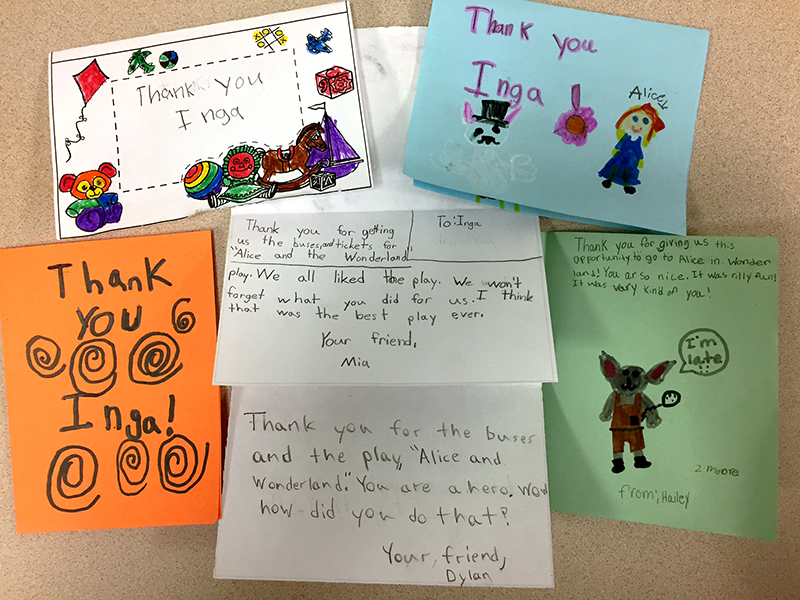 A folder filled with the most delightful cards and drawings showed up at our office recently, all bursting with thanks, praise and best wishes. But they weren't for us. They were for Inga.
We tell Inga Johnson's story a lot—with her brother she ran the Lake Alice Grocery Store in Fergus Falls. She traveled throughout the U.S. as a young woman. She loved to fish. She loved photography and was a charter member of  the local photography club. And, before her death at the age of 96, she worked with her financial planner and West Central Initiative to establish the Inga Johnson Trust Fund. In 20 years, the trust has given more than half a million dollars to local and regional nonprofits, especially those organizations that serve children and promote the arts—both important to Inga during her lifetime.
A Center for the Arts in Fergus Falls used its gift this year from the Inga Johnson Trust  to help fund transportation and tickets for second- and fourth-graders of the Fergus Falls school district to attend a delightful performance of Alice in Wonderland.
The cards we received from those elementary school children were effusive in their thanks and filled with joy for the experience. We think Inga would have loved it. We sure did, and came to admire Inga's lasting legacy to Fergus Falls even more.  
Would you like to become an Inga? Our donor services team of Tom McSparron and Sandy King would love to visit with you about how to leave a legacy that would help support your community and your values. Call them at 800-735-2239, or email tom@wcif.org or sandy@wcif.org?subject=Leaving%20a%20Legacy">sandy@wcif.org. With all financial matters, we also encourage you to consult your financial advisor.