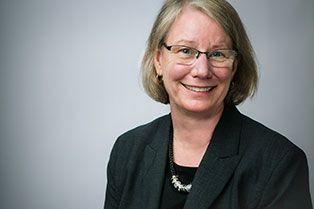 Nov. 12-18 is National Community Foundation Week. George H.W. Bush designated this week in 1989, 28 years ago.  West Central Initiative—a regional community foundation—and our donors are among those "thousand points of light" that he believed would make our country shine.
This past spring, I was named the president of West Central Initiative and in my first six months I have learned a great deal about one of our main functions as a community foundation: to manage 80-plus charitable funds—called component funds—for the people, communities and organizations in our region. These are funds raised by you, the residents and local groups, to benefit causes that you are passionate about. I have been amazed by the variety of these causes and at our communities' generosity. In the last several years, component funds have supported hospitals, libraries, outdoor recreation facilities, education in general and scholarships for students, in particular.  Some funds are for environmental purposes, others are specifically used to help local businesses start up and expand. In all, we currently manage over $21 million in component funds throughout west central Minnesota. 
Why are these funds so important to you and your community?  I believe it is because you and your neighbors have a genuine feel for what will improve the lives of those who live in your community. Your vision is clearer because you have experienced daily life in this place you call home.  And that impels the residents of your community to team up to find the resources to make a positive difference now and for generations to come.  That is the definition of philanthropy and it is a powerful, life-generating impulse that is uniquely American.   
In addition to helping establish and manage component funds, community foundations raise other resources to strengthen the impact in all these areas.  In its 31 years, West Central Initiative has provided $51.5 million in grants, $48.4 million in loans and has leveraged an additional $239 million in outside funding, all designed to build vibrant communities and stimulate economic growth.
At West Central Initiative, we don't think about the next election or business cycle, we think about the next generation and the next after that. That can seem a daunting task, but it's one that we all share.  During National Community Foundation Week, I hope you'll join us in recognizing our collective impact and the difference we can make together.   
If you would like to find out more about giving to West Central Initiative or establishing a component fund, please visit our website at giving.wcif.org.  And then give us a call at 800-735-2239.  We would love to talk with you about how a gift to your local component fund is really an investment in the future of your community. 
Anna Wasescha, President

West Central Initiative