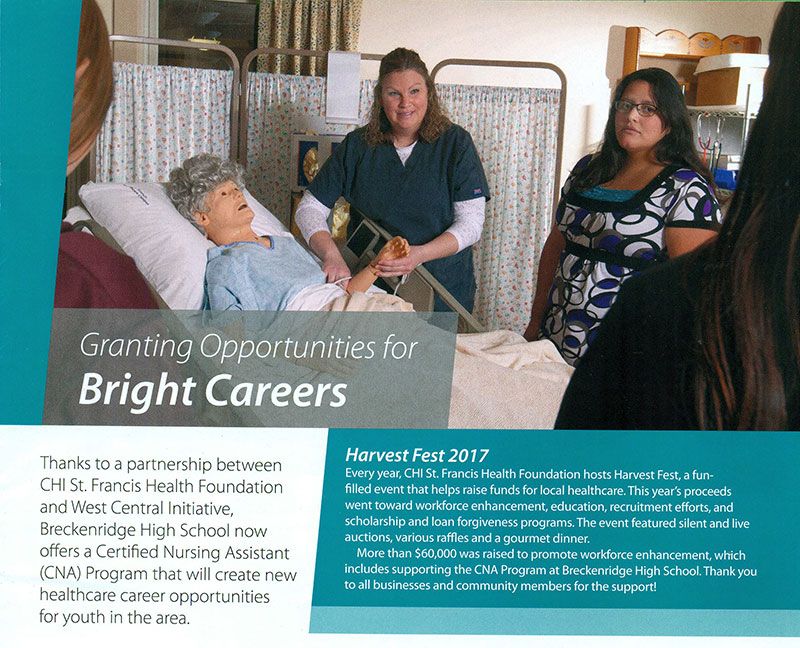 Rural areas like the Red River Valley are struggling to keep healthcare professionals active in their communities. Older professionals are retiring, and younger professionals are often lured away by urban healthcare system recruitment efforts. These factors can cause local numbers to dwindle while community-focused healthcare providers search for new ways to attract talent or—as in the case of CHI St. Francis Health—create it.
"We're finding creative ways to get people into the healthcare industry," says Lynnae Wenker, CHI St. Francis Health Foundation Director. "That's why we started the CNA Program with Breckenridge High School."
The CNA (Certified Nursing Assistant) program was made possible by a $15,000 grant from West Central Initiative, a regional community foundation that focuses on economic and workforce development. CHI St. Francis Health Foundation reached out to West Central Initiative with the idea for
a high school CNA program, and a partnership was formed. After speaking with the principals at Breckenridge High School, the CNA Program took shape and was implemented at the start of the most recent school year.
Young Professionals
The CNA Program allows Breckenridge High School students to earn CNA certification through classes offered at CHI St. Francis Health.
After they are certified, students can begin CNA work at CHI St. Francis Health and other community providers.
"Becoming a CNA is a great step for anyone looking toward a career in healthcare," Lynnae says. "We wanted to offer practical, real-life education to students so they can get a strong start in the industry. In return, we'll have new healthcare workers trained right here in the community."
Seven students are currently enrolled in the CNA Program, which is led by two licensed instructors. The students learn on-site at CHI St. Francis Health, where they take part in
lab work and see the role of a CNA in action. The class can accommodate as many as 15 students and will expand as interest grows, thanks to grants and donations from community members and organizations.
To learn how you can contribute to efforts like the CNA Program at Breckenridge High School, visit www.foundationgiftlegacy.org.
Reprinted with permission from CHI St. Francis Health.
To learn more about WCI's Workforce Solutions Grant program, visit workforcesolutions.wcif.org.