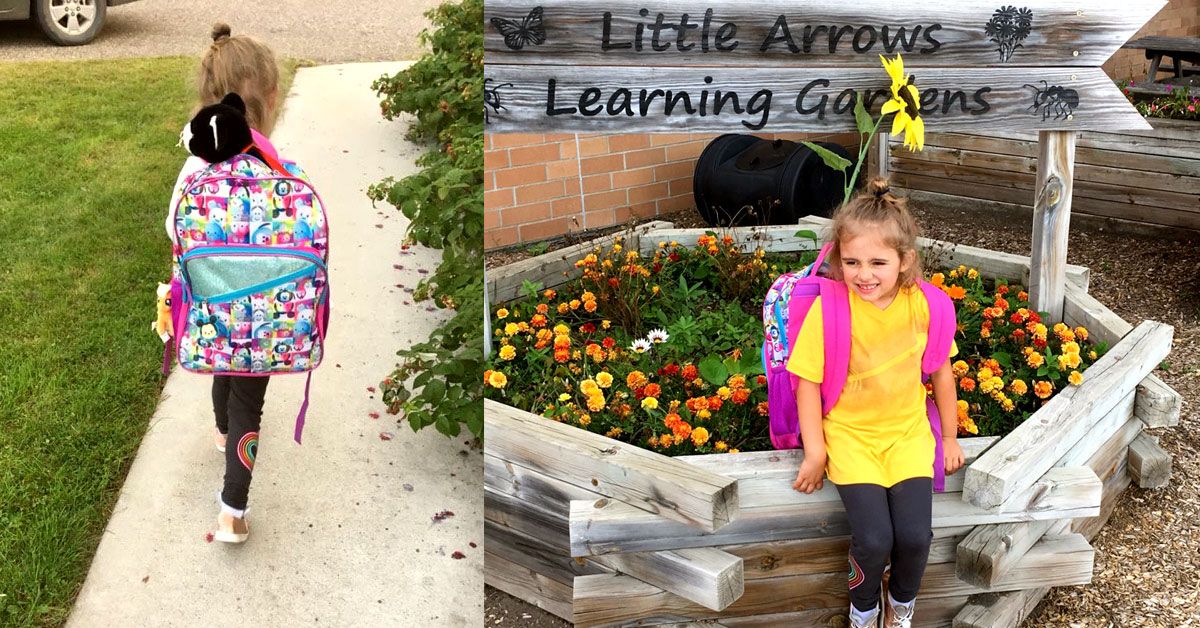 This morning, on her third day of school, my daughter turns her big brown eyes upward to ask, "Can we walk to school today?"
I check my watch… yes, we had time. 
I check the weather… no, we won't need extra gear.
"Sure," I reply, and follow this tiny bobbing pony tail that is perched over the backpack twice her width out the door and down the sidewalk.
As we walked, we talked. 
She hasn't said much about her first days at school so far because she has come home exhausted from the excitement of the day and just wants to play.  But this morning, she is thrilled to tell me all the things she is looking forward to doing when we arrive. Dress up, playing with friends, breakfast in the cafeteria, "which they call the lunch room but I'm going to call the breakfast room…" and more.
We pass the city park with the beautiful garden, and we point to blossoms in our favorite colors.  I tell her about the Garden Club that works to make this garden so beautiful, and some of the members we know personally.  We walk by houses of friends and relatives and talk about our favorite people.  We pass by the city office and public works and I tell her (in preschool terms) some of the things that happen there.  As the cars pass by, we wave – to people we know and to people we don't – hoping to share our good morning mood. 
When I drop her at school, I check my watch.  This lovely morning journey took only 11 minutes, even with her shorter stride. 
On my eight-minute walk home, I think about my day ahead.  I am fortunate to work on Safe Routes to School, a Minnesota Dept. of Transportation program that helps a community make a plan to improve the bike- and walkability.  I wonder what I could do to help my town, and others, implement some of the things in their SRTS plans.  (To see some of these plans, visit West Central Initiative's Safe Routes to School webpage.
I also think about the amazing assets my community, and those in our region, have to offer.  What an advantage to live somewhere where:
I can get what I need with just a 10(ish) minute walk [or roll!];
Community members pitch in… to beautify the town, to serve on the city council, and more; 
The government has adequate resources to keep the streets clear and the water flowing;
People wave back and say hello or hola.
I would love to hear your story, too!  Drop me a line at jill@wcif.org, and tell me about your town; OR invite me to bring WCI to your community--something we're calling "Pop-Up Office Hours."  I will be in Kensington on September 25 and Detroit Lakes on October 16.  Visit our Facebook events to learn about our events!