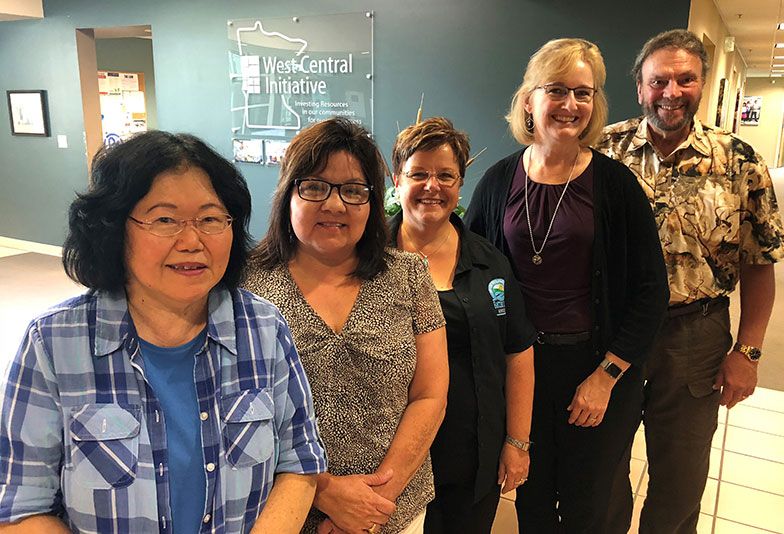 Larry Doss, Barb Fabre, Nicole Fernholz, Yoke Sim Gunaratne and Val Martin join Sue Huebsch (who took over former board member Dean Simpson's term in March) as the newest members of the West Central Initiative Board. 
Larry Doss returns to the board after serving from 2006 to 2012. He lives in Holmes City in Douglas County and works at Glenwood State Bank, Glenwood, as Vice President/Agricultural Lender.
Barb Fabre runs her own consulting firm, Indigenous Visioning. A member of the White Earth Nation, Barb collaborated with WCI's Early Childhood Initiative for several years as the former director of White Earth Child Care/Early Childhood. She lives in White Earth.
Nicole Fernholz lives and works in Alexandria, where she is executive director of Living Alexandria Area Economic Development Commission, a non-profit corporation that provides leadership, collaboration and resources to assist in regional growth. 
Yoke Sim Gunaratne knows WCI from her work as executive director of Cultural Diversity Resources, Inc., which serves Clay County (MN) and Cass County (ND) providing multi-ethnic leadership, diversity training and community development. She lives in Moorhead.
Val Martin is also a longtime partner with WCI through her roles as Battle Lake city clerk, treasurer and economic development director. Val lives in Ashby.
"West Central Initiative is excited to welcome our new board members," said WCI President Anna Wasescha. "Each brings a wealth of experience to bear on the important work of our governing board. They will deepen our understanding of the communities where they live and work. We're so grateful for their volunteer spirit and commitment to being stewards of our region."