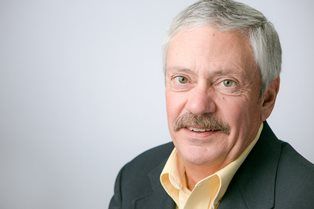 It's always hard to say goodbye to a colleague.
Tom McSparron, director of community philanthropy,  retires from West Central Initiative on Oct. 26 after 10 years serving the nine-county region.
Tom's the one that, along with Director of Business and Economic Development Director Greg Wagner, visits city council members and county commissioners each year as part of the self-described "Tom and Greg Show." He's the one who provides "Fundraising 101" to so many nonprofits, who leads and encourages our component fund advisors, who gets to see firsthand how communities make the difference, be it a baseball park in Deer Creek, a pool in Parkers Prairie, a library in Fergus Falls, a child care center in Battle Lake, or a community center in Herman.
The highlights of his tenure at WCI? "It's the people," Tom says. "Donors like Lloyd Paulson of Moorhead  and Betty Cherry of Detroit Lakes, who have left lasting legacies in their hometowns, and the people and communities that had a dream and made it a reality.
"I'm proud of what we got done," Tom acknowledges. "It's easy to retire knowing that WCI is heading in the right direction and is in the right hands."
Watch videos from Tom's retirement party at vimeo.com/wciminn.