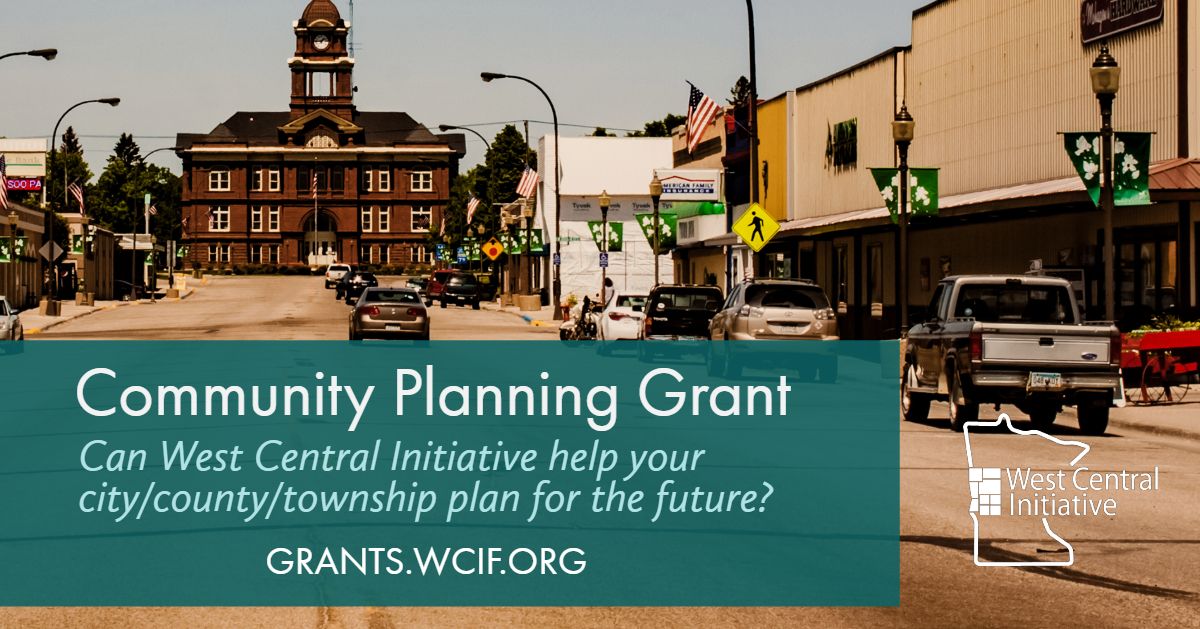 Changes to the West Central Initiative (WCI) Community Planning Grant program will make it easier for cities, counties and townships to access and apply.
WCI designed the Community Planning Grant to help the nine counties of Becker, Clay, Douglas, Grant, Otter Tail, Pope, Stevens, Traverse and Wilkin, plus the cities and townships in those counties, fund plans that will benefit their residents now and for generations to come. These awards encourage community collaboration by engaging residents in opportunities that foster positive community and regional development.
Types of plans considered for the grant include—but are not limited to—comprehensive, transportation, economic development, housing and capital improvement. Grants may also be used to contract services with organizations such as the University of Minnesota Extension for its Business Retention and Expansion program or "Making It Home" initiative, the Main Street America program or the Minnesota Design Team.
"These are just some of the plans or programs WCI would consider for the Community Planning Grant," said Wendy Merrick, Director of Programs. "Other community projects may be eligible at the review and discretion of WCI staff." 
WCI has expanded the types of projects open for the grant. One major addition to the list of acceptable projects is the comprehensive plan.
"We are rapidly approaching a crucial point in time when many factors will be influencing change in our communities. Comprehensive plans are an important tool to identifying and guiding the future actions of a city for years to come," said Greg Wagner, Business and Economic Development Director.  "Now was the ideal time for WCI to provide some financial resources to encourage the region's communities to undertake this process."
WCI still requires a local cash or in-kind match of at least 50 percent for the project.
The Community Planning Grant is an "open" grant. Applications will be considered at any time throughout the year, provided there are funds available. Up to $75,000 in total grant funds will be awarded to 10 communities within WCI's 2019 fiscal year, with a maximum award of $7,500 per community per fiscal year.
For questions or to inquire about available funding, visit grants.wcif.org, or contact Jill Amundson, associate planner, at 800-735-2239 or jill@wcif.org.