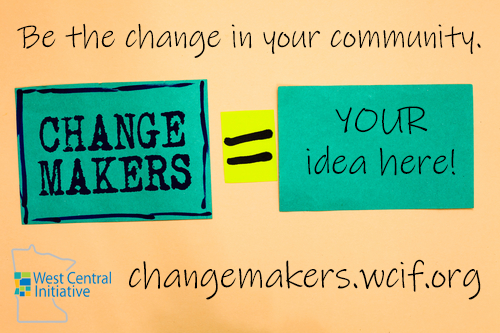 When West Central Initiative (WCI) launched its Community Change Makers grant nearly a year ago, staff were eager to see what change-making ideas residents, organizations, schools and local government had for their communities and counties. The results: an amazing variety of projects, but each one committed to the grant program's main goal to making communities more socially connected, equitable, hopeful and empowered. In the latest round, WCI awarded a total of $51,400 for 11 diverse projects.
Meet the awardees:
Habitat for Humanity of Douglas County received $5,000 for its Aging in Place Program that provides home improvement and modifications so older residents can remain active in their communities.
The Bridge Community Pantry received $5,000 to help expand its current space for more food storage and to better accommodate its clients.
The Otter Tail County Historical Society in Fergus Falls will use its $5,000 award during its planning stage for a new museum to engage residents and learn about emerging trends and the interests of the wider community.
WCI awarded $4,000 to the Pelican Rapids Public Schools, which will collaborate with Trinity Lutheran Church of Pelican Rapids to help individuals complete an online Child Development Associate program so they can be employed in a child care setting.
The City of Donnelly received a $5,000 grant to complete new accessible bathrooms in its city hall and meet ADA requirements.
United Way of Douglas & Pope Counties is the fiscal host for Douglas County Early Childhood Initiative's (ECI) Child Care Story Hour. The $5,000 grant will be used to hire two early educators to provide education for child care providers while their charges enjoy story time with hands-on STEAM activities.
West Central Minnesota Communities Action, Inc. will use its $5,000 award to help fund its Launch Pad Homelessness Pilot Program to provide extended stay housing for families in need.
Essentia Health St. Mary's is the fiscal host for The Hornets Hive, a nonprofit committed to transforming communities to lead positive and healthy lives. A $2,400 grant will help fund listening sessions in Frazee, Vergas and Wolf Lake.
Springboard for the Arts received a $5,000 grant for its Hinge Arts Homecoming Residency, which is based in Fergus Falls. The residency invites artists who grew up or spent a portion of their youth in west central Minnesota, but who now live elsewhere, to return to their home region for 8-12 weeks and collaborate with their community on an engagement project that addresses a local issue.
RUSC (Raising Up Stevens County) Kinship's $5,000 award will help fund its Lunch Buddies program that matches up second graders with an adult for lunch and reading time once a month. This helps the student form a positive relationship with an adult role model and build personal resilience.
West Central Area Schools is fiscal host for the Child and Youth Council and Grant County Early Childhood Initiative's $5,000 award to host "Community Resilience Conversations" throughout Grant County. The information gathered will be used to develop a resilience plan that fully meets the needs of all children, youth, families and adults in the county.
"We'd like to fund many more change-making ideas in our nine-county region," said Wendy Merrick, director of programs. "Look around your community, get together with residents, your nonprofits, your schools, your city and county government, and do some brainstorming. Then give me a call at 800-735-2239 and we can talk about your idea."
Applications for the next Community Change Makers round are due Friday, March 8, 2019.  For more information and an application, visit changemakers.wcif.org.