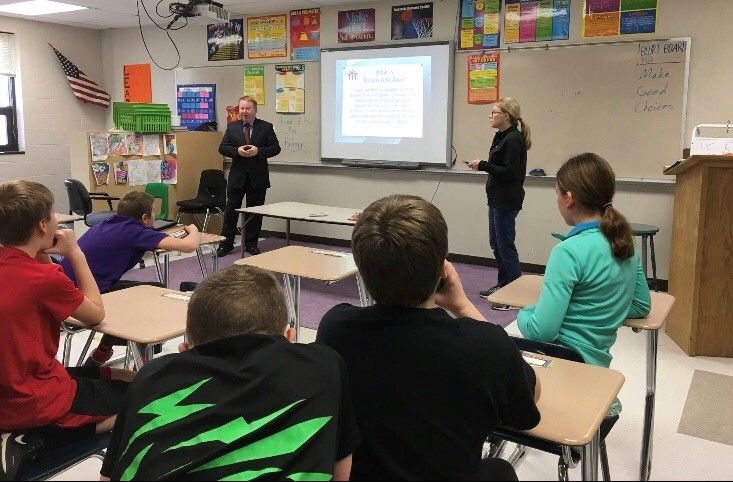 Trojan's Give Back is "planting seeds that teach kids, at a very critical age in life, that philanthropy is so important" says Karen Lauer of the Barnesville EDA. This program is a school-based philanthropy curriculum for sixth graders. "It is non-profits and volunteers that are making a significant difference in our lives and the non-profits enjoy the opportunity to come before the kids and tell their stories—kids are impressionable", continues Lauer. This program was developed in 2015 and has been a part of the sixth-grade learning goals since 2016. As a part of Trojans Give Back, each class of sixth graders in Barnesville is provided with seed money from the Barnesville Area Community Fund. With this seed money, the class votes on a non-profit to support following a review of applications and an interview with each of the selected non-profits.
Trojans Give Back was modeled after a similar program started in Fargo. Kristy Loeks, parent and past board member for Barnesville Area Community Fund (BACF) brought the concept to Barnesville. The BACF discussed the project and felt that it was very valuable. "It's really about the kids….The kids are more engaged each year and the community fund is solidly behind supporting this program" says Lauer. Loeks and two other Barnesville area parents developed the curriculum that is still used for the program today.
Loeks said she sees so much potential in the future of the Trojans Give Back Program. Not only does the program teach philanthropy to school children but also to the adults in their lives. As a part of the curriculum, two community-based volunteer mentors are assigned to a classroom and meet with the class six times for the program. One sixth-grade teacher confessed to knowing little about philanthropy until participating in this curriculum and learning from the classroom mentors.
In addition to teaching philanthropy, the program also teaches democracy. As the students work together as a class to decide which non-profit to support, the final decision comes to the individual vote. Students learn that their vote influences the outcomes in decisions. Loeks envisions the program expanding to teach other skills including: communications, volunteerism, marketing and implementation of marketing materials. Her dream is that in the next few years there will be a "deep dive" into the curriculum and more visibility for the program. A couple of the non-profits supported by the Trojan's Give Back program include Honor Flight and We Love Kids, which raised monies for new playground equipment.