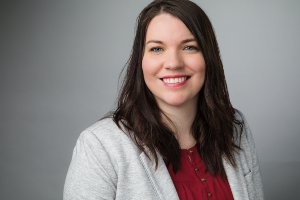 FERGUS FALLS, MINN — (Feb 18, 2020) — West Central Initiative (WCI) President Anna Wasescha is pleased to welcome Sarah Casey as WCI's new Director of Strategic Communications.
Since 2012, Casey has worked in public relations for Otter Tail Power Company, managing communications for many large-scale projects and initiatives. At Otter Tail Power Company, Casey also provided leadership with sustainability reporting, crisis communications, and social media efforts. She was recognized for her publications excellence, winning industry awards for publications in 2014 and 2016.
Prior to her work with Otter Tail Power Company, Casey worked in corporate communications for Blue Cross Blue Shield of North Dakota and spent several years with the college relations and marketing department of North Dakota State College of Science in Wahpeton, N.D.
"We are thrilled to have Sarah join our team at West Central Initiative," Wasescha said. "She is highly regarded for her communications work, and we look forward to having her take the lead as we look to refresh the WCI brand."
Sarah is a graduate of Minnesota State University in Moorhead and Fergus Falls High School. She serves locally on the boards of the 544 Education Foundation and Fergus Falls Hockey Association. In 2017, she was named a "30 Under 40" selection by the Fergus Falls Daily Journal. Sarah and her husband, Andrew, have three children.
West Central Initiative is a regional community foundation serving the nine west central Minnesota counties of Becker, Clay, Douglas, Grant, Otter Tail, Pope, Stevens, Traverse, Wilkin and White Earth Nation. WCI invests resources in our communities for regional success, using the tools of economic development and community development, and by promoting philanthropy. Learn more at www.wcif.org.
--30—