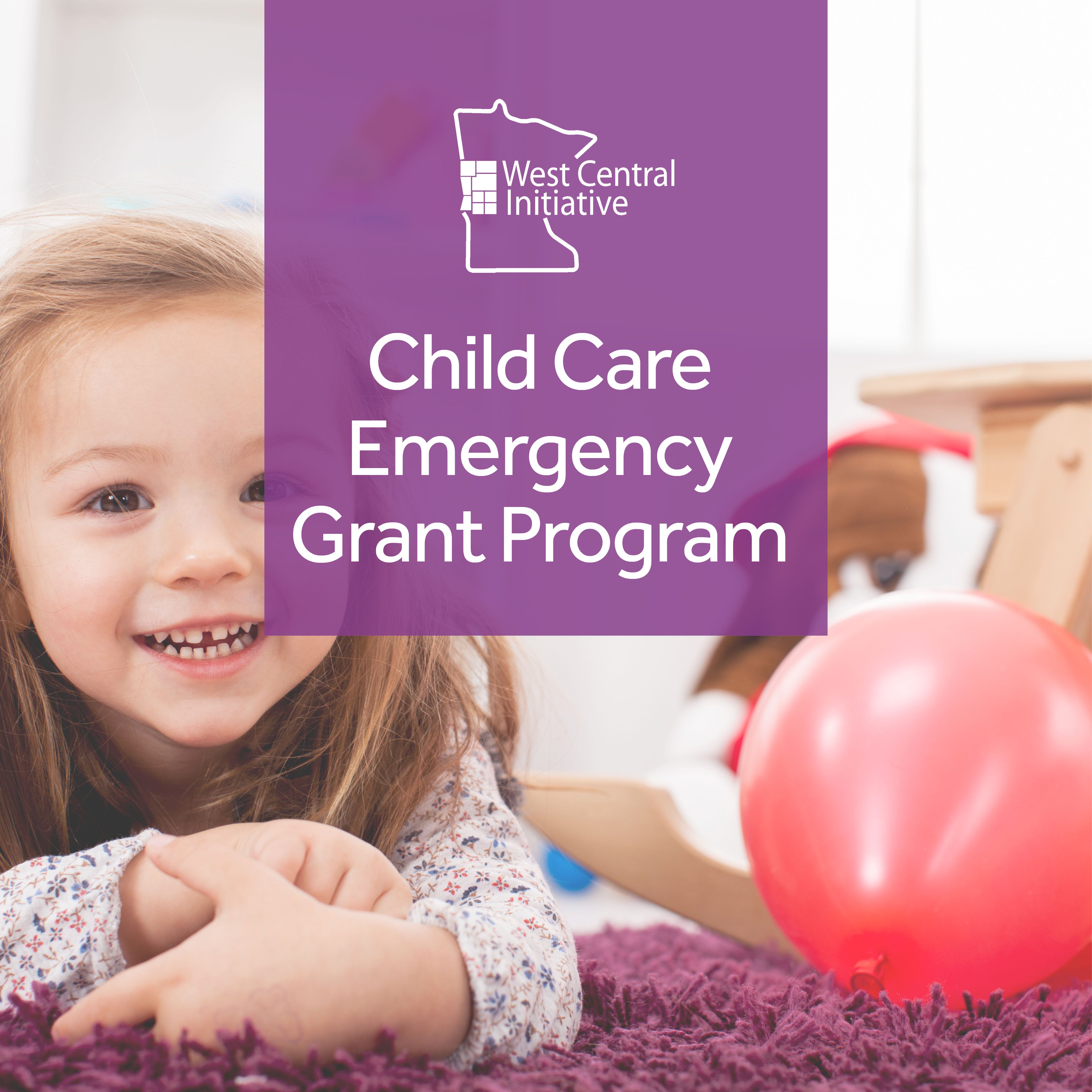 Licensed family- and center-based providers caring for children of emergency and essential workers are invited to apply. 
West Central Initiative (WCI) and the five other Minnesota Initiative Foundations created an Emergency Child Care Grant Program to provide grants to licensed child-care providers in Greater Minnesota.  
West Central Initiative is providing grants first come, first served of $1,000 to family-based providers and $3,000 to center-based providers within its west central Minnesota service area that includes Becker, Clay, Douglas, Grant, Otter Tail, Pope, Stevens, Traverse and Wilkin counties and White Earth Nation. To be eligible, providers must be caring for the children (ages birth to 5 years) of parents or guardians who are working in government-identified critical sectors that are exempt during this time from the stay-at-home order. To learn more about who is considered a critical worker, please visit the Minnesota Department of Employment and Economic Development's website, mn.gov/deed. 
Qualified child-care providers within West Central Initiative's service area should complete a short online application at wcif.org/CCEmergencyFund. Links and guides to each foundation's region are available at greaterminnesota.net/childcare. 
"The COVID-19 pandemic is impacting Minnesota's entire child-care system in an unprecedented way," said WCI Early Childhood Director Nancy Jost. "Child care is a critical service. During these challenging times, it's important that we provide every opportunity for providers to continue caring for our youngest community members." 
All six Minnesota Initiative Foundations have committed $50,000, for a total of $300,000, dedicated for Greater Minnesota child-care providers, and are working to secure additional resources from other partners. 
If you have questions about this opportunity, contact WCI Early Childhood Specialist Marsha Erickson at marsha.erickson@wcif.org or 218-998-1628. 
About West Central Initiative 
West Central Initiative is a regional community foundation serving the nine west central Minnesota counties of Becker, Clay, Douglas, Grant, Otter Tail, Pope, Stevens, Traverse and Wilkin and White Earth Nation. WCI invests resources in our communities for regional success, using the tools of economic development and community development, and by promoting philanthropy. Learn more at wcif.org.   
About the Minnesota Initiative Foundations 
The Minnesota Initiative Foundations are six regional foundations working to strengthen the communities and economies of Greater Minnesota. Established by McKnight Foundation in 1986, each foundation is independent and serves its geographic region with grants, business loans, programs and priorities, and donor services, as well as collaborates on statewide initiatives. The Minnesota Initiative Foundations are nationally recognized as unique resources to the people, businesses and communities of rural Minnesota. Learn more at greaterminnesota.net.