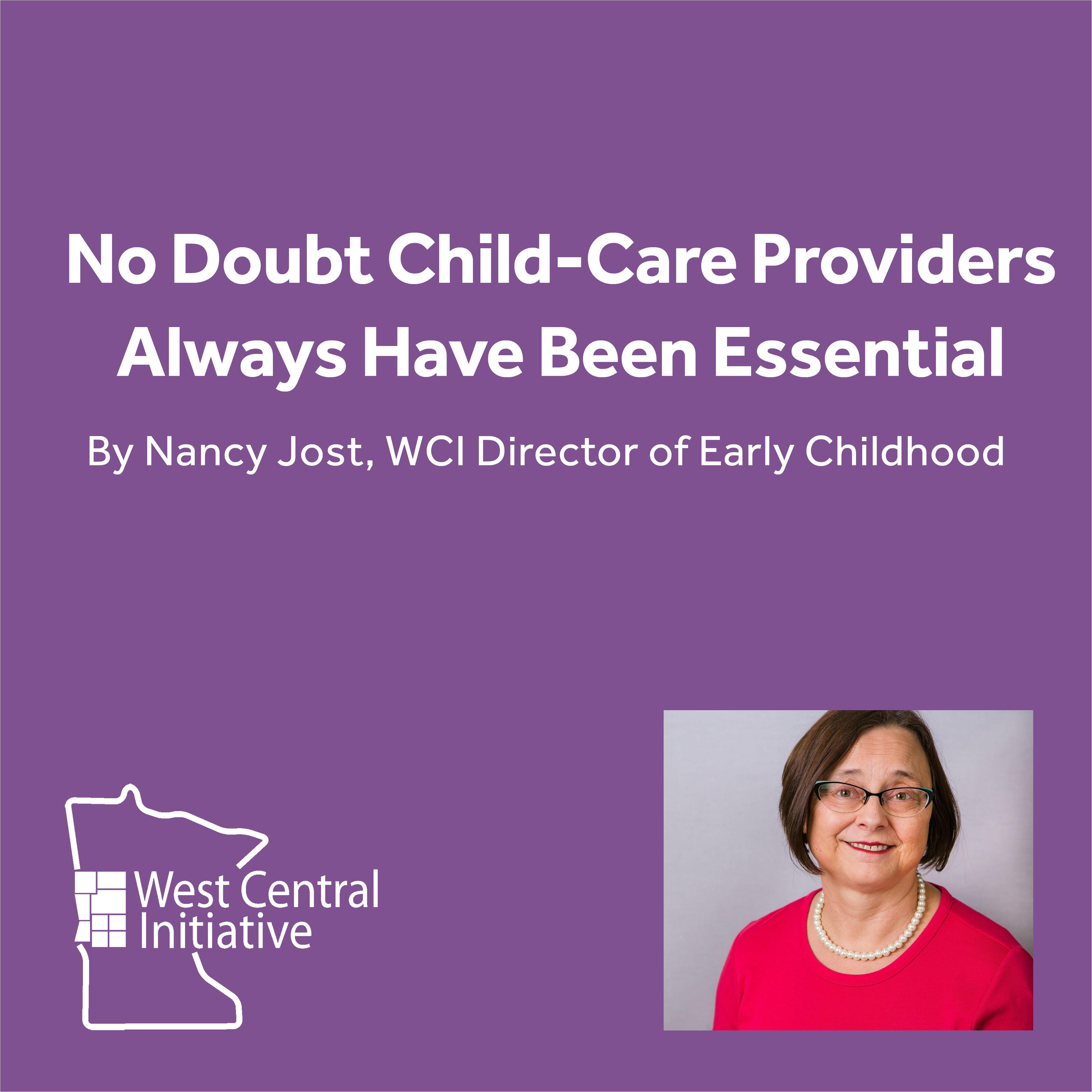 I'm amazed at the generosity, good will, valor and fortitude on display during these unprecedented times.
Every day seems to bring word of new acts of kindness by everyday people or, from those on the front lines, stories of going above and beyond in this battle against COVID-19. Local people and organizations stepping up in healthcare, education, law enforcement, manufacturing, grocery, energy and government, to name a few.
West Central Initiative (WCI), with support from our partners and the statewide philanthropic community, joined the fight in these challenging times to support a key essential industry: child care.
That's right. Our child-care providers have always been—but are newly recognized—as essential workers.
Anyone who knows me would smile about that statement as I've long voiced strong opinions on the role of child care in society. Indeed, for years now the critical importance of child care is in key conversations among economic developers, community leaders and legislators.
Child-care providers always have been essential. Yet today providers are facing an uncertain future. Already on thin margins as a business, can they survive the enrollment drop as unemployed parents remove their children? Studies show that when a home-based or center-based provider closes, chances are slim they ever open again. Lack of child care already is a challenge for growth in rural Minnesota.
Last month WCI distributed $200,000 in grants to child-care providers in our nine-county region. Almost 400 providers reached out to WCI for the grants, but the real story may be what we heard from providers during this process:
"I have been a provider for 30 years and what a heartbreak we are going through. Sad, happy, scared and trying to stay positive for my child care children and parents and staying open so the parents that I have [who are] doctors, nurses and teachers, have a place for their children to come. I get calls from the other parents who can't come because they lost their jobs and tell me their children miss their friends and [are] sad they can't come play. So I've been contacting them to just say hi and love them."
"I considered closing during this pandemic but stayed open to support the essential workers. I put in an additional hour and a half of cleaning each day."
"Working to keep our kids safe and our families that need to work still working. Also working to keep children's lives normal as possible for them."
"We have offered to extend our hours to midnight if needed."
Last week the state launched a Peacetime Emergency Child Care Grant initiative through Child Care Aware of Minnesota. If you're a child-care provider, apply for a grant at childcareawaremn.org.
So, yes, be amazed at the stories of support, heroic deeds and valor for those working for us all, and for all who are supporting each other during this pandemic.
Together, let's appreciate those essential child-care providers who help make it all possible.