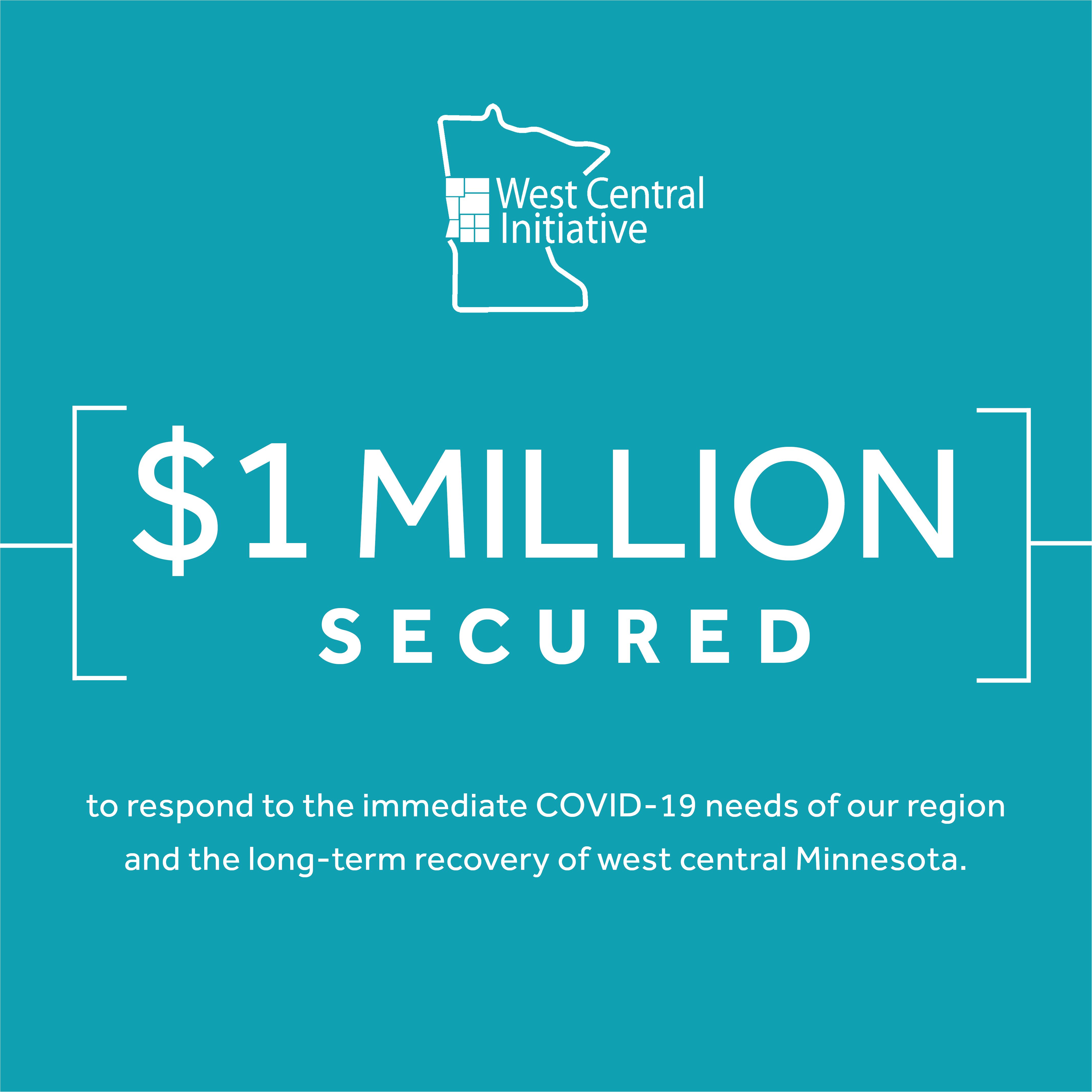 Application for 2020 Resiliency Fund Grants Now Available 
West Central Initiative has secured more than $1 million to respond to the immediate COVID-19 needs of our region and the long-term recovery of west central Minnesota. The organization serves Becker, Clay, Douglas, Grant, Otter Tail, Pope, Stevens, Traverse and Wilkin counties and the portion of White Earth Nation that lies within Becker County. 
In April West Central Initiative distributed $300,000 to child-care providers caring for children of emergency and essential workers. Through its 2020 Resiliency Fund, the balance—more than $700,000—now is open to community organizations seeking to respond to other parts of our society impacted by the virus. 
"Our communities have shown true solidarity as COVID-19 continues to devastate," said West Central Initiative President Anna Wasescha. "The sacrifices made are real, the disruption is everywhere. One way West Central Initiative is working to help forge a path ahead is by supporting organizations through our 2020 Resiliency Fund." 
Visit wcif.org/ResiliencyFund to apply for a grant or donate to the fund. West Central Initiative suggests a grant request minimum of $1,500 and maximum of $10,000, although it may decide to award grants of more than $10,000 based on scope and need. Before applying, read the Resiliency Fund Grant Guidelines found on the application page. The organization will accept and evaluate applications on a rolling basis through May 31, 2020.  
West Central Initiative will prioritize 2020 Resiliency Fund grants to organizations that address and show evidence of:   
Meeting the immediate needs of individuals in high-stress situations.   
Maximizing resources, such as partnerships with other organizations and businesses to provide services to individuals and entities without access to necessary resources.   
Supporting remote work initiatives for students, families and businesses.   
Transitioning service-delivery model to support and maintain long-term organizational viability.  
Supporting long-term recovery efforts and activities, such as development of community/regional long-term recovery plans.  
"Also, if you're wondering what you can do to help, consider contributing to our 2020 Resiliency Fund," said Wasescha. "While we're grateful for more than $1 million of secured funds, we realize that the real impact of COVID-19 may not be realized for years to come and that philanthropic needs may continue to grow exponentially. That's why we'll continue our work to secure funds from individuals, communities, businesses and organizations. Your gift, of any amount, contributes to the economic and community health of west central Minnesota."
Donations to the 2020 Resiliency Fund are tax-deductible to the extent allowed by law.