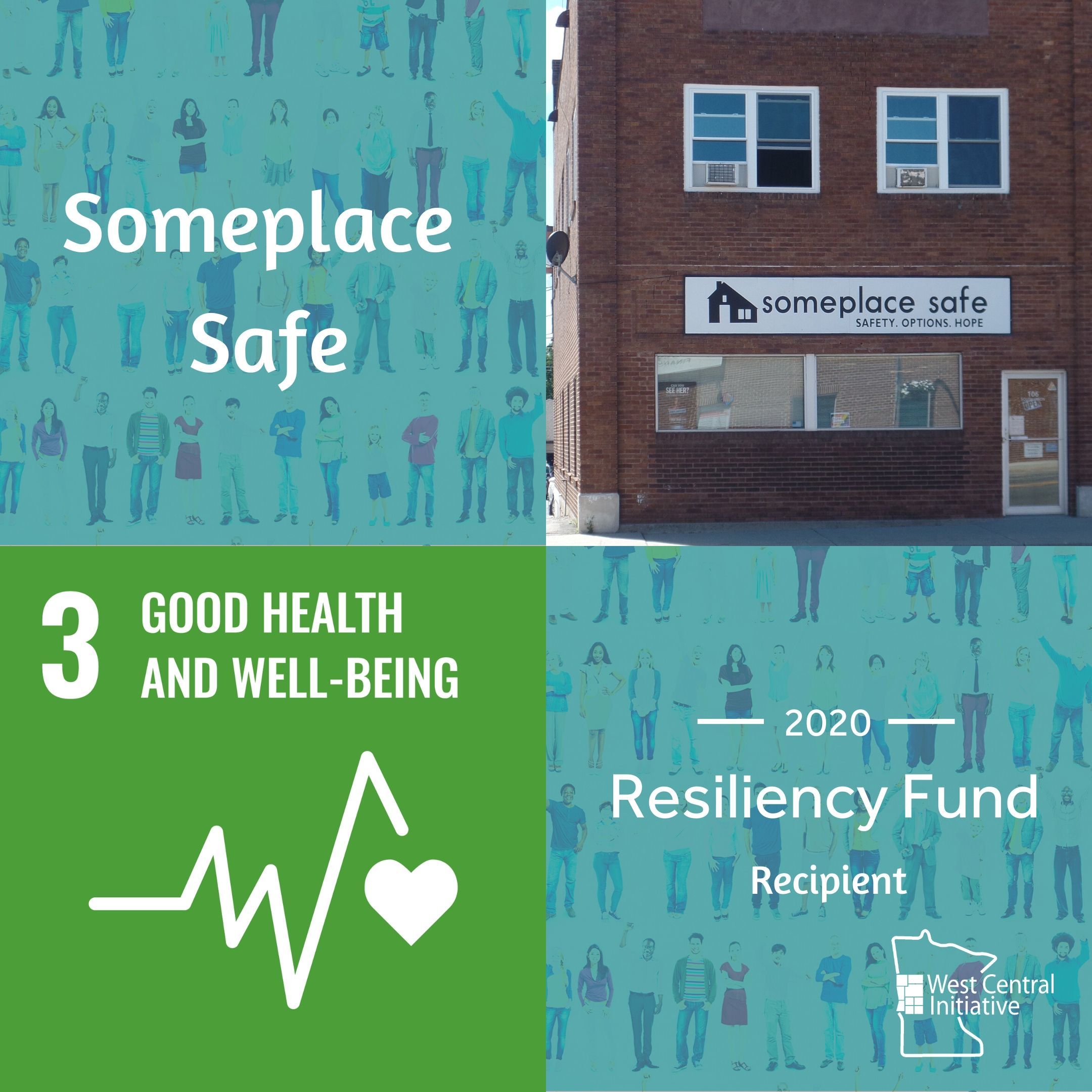 When most people think of Someplace Safe, they think of a haven for women in abusive relationships. Ashley Zach, the Director of Development and Communications, wants you to know that Someplace Safe is so much more than that.
"Someplace Safe is not just for women or victims of domestic violence," Zach said. "We support a diverse group of survivors and community members who have been impacted by a variety of crimes. Someplace Safe also provides help for friends and families of victims and our advocacy services are free for everyone."
Someplace Safe is a recent grant recipient of West Central Initiative's Resiliency Fund, created to assist nonprofit and government organizations affected by the pandemic.
Zach stresses that Someplace Safe provides hand-ups not handouts. "We try to get people through difficult times with things like gas cards to travel to interviews or grocery gift cards to feed their families," she said. The Resiliency Fund grant also helped pay for childcare for clients who are essential workers and to purchase critical supplies such as hand sanitizer, soap, disinfectant, gloves, and masks.
Zach says the donation also helps provide emergency financial resources such as rent money and relocation assistance to help victims leave abusive homes. The organization even offers cell phones allowing clients to keep in touch with Someplace Safe staff or call for help.
West Central Initiative has adopted the 17 United Nations Sustainable Development Goals (SDGs) and asked those applying for the Resiliency Fund to identify which SDGs aligned with the applicants' plan for the funds. One of the goals Someplace Safe identified was the goal of Good Health and Well-Being.
Zach says, "Living in an abusive situation or being victimized has a detrimental impact on health and well-being. Crime and abuse not only impact physical health, but emotional and psychological health, too, which can last a lifetime."
Someplace Safe has been a beacon of hope for victims in their 9-county region since 1979 and continues to help over 4,000 people a year. Someplace Safe is determined not to let COVID-19 get in the way of providing safety for those in need.
If you would like to more about Someplace Safe, visit: someplacesafe.info.
To donate to the WCI Resiliency Fund, visit: wcif.org/resiliencyfund.