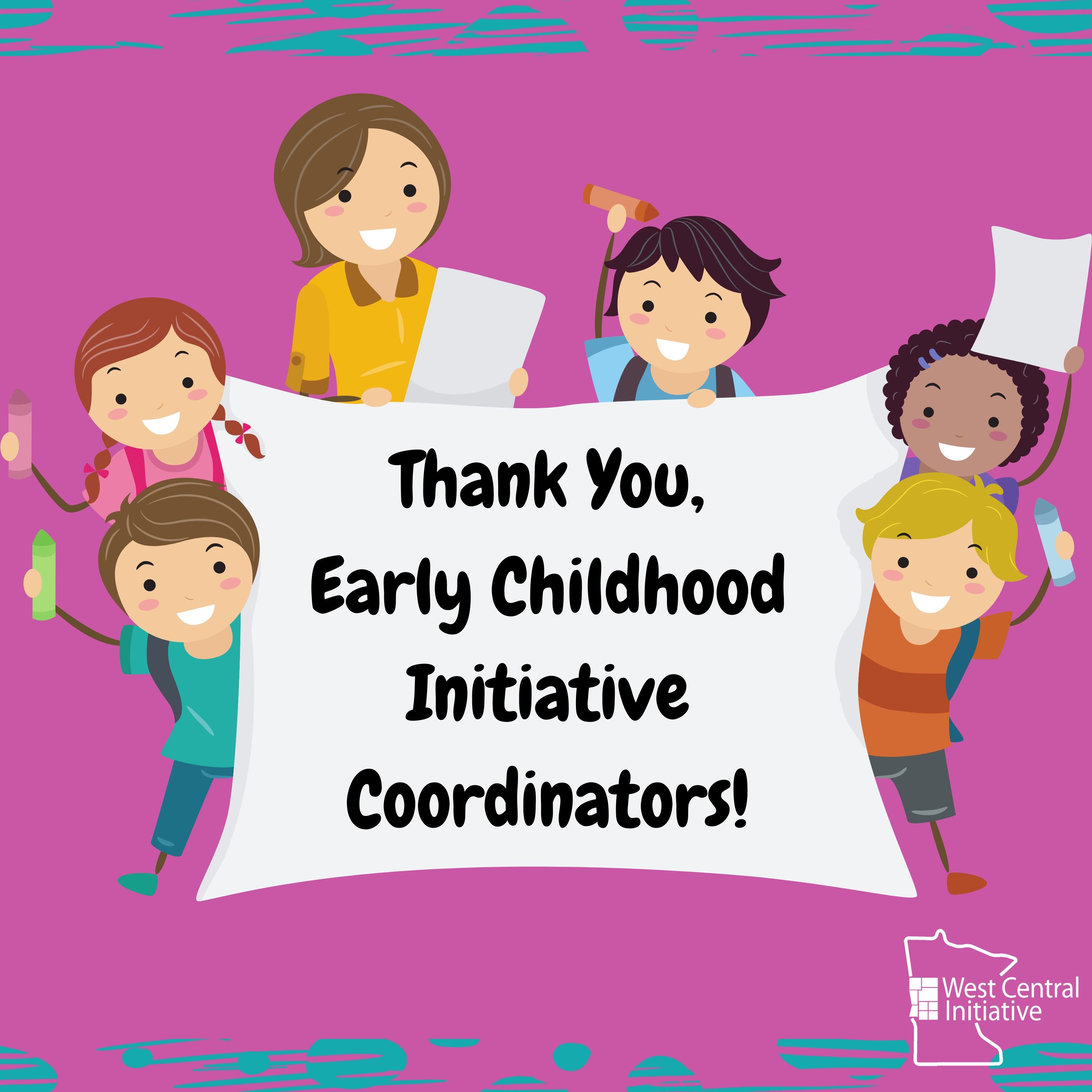 While COVID-19 seemingly brought everything to a screeching halt, Early Childhood Initiative (ECI) Coordinators have been working tirelessly to help providers keep children in our area busy and safe. "Many of the ECI teams have partnered with Child Care Aware and West Central Initiative to distribute safety equipment to child care providers in the region," said Nancy Jost, Director of Early Childhood at West Central Initiative.
In Douglas County, the ECI team distributed bleach and hand sanitizer to child care providers and helped them order supplies from Elden's and Cub Foods.
The ECI team in Pope County helped coordinate efforts by local grocery stores to assist child care providers by setting up charge accounts to ensure providers could order food and supplies online and picked up curbside or delivered. The team also distributed masks and gift cards for local restaurants to the providers.
The Becker County ECI team distributed free masks, disinfectant, and hand sanitizer to child care providers. They also distributed food, diapers, wipes, and masks to families in need.
The Clay County ECI team showed their support for local child care providers by sending thank-you cards and Dairy Queen gift certificates.
The Stevens County ECI team provided protective equipment for child care providers.
Keeping children busy and engaged is important. ECI coordinators are working to ensure children continue learning at home.
In Douglas County, Linda Saari and Deb Berry are assembling "maker space" kits for child care providers and sharing videos showing how to use the kits. They're distributing "Talking is Teaching: Talk, Read, and Sing" kits to Alomere Health and Center Based Child Care. They also donated to the United Way of Douglas and Pope Counties' Traveling Tree House, which provides fun and educational activities kits for children and online videos to accompany the kits.
The Pope County ECI team also is connecting with children through the United Way's Traveling Tree House. They helped put together gift bags for the Traveling Tree House to distribute to 15 child care providers.
In Becker County, children are continuing distance learning through the Early Childhood Preschool Program.
The Stevens County ECI team continues to prepare distance learning packets and videos for 175 children and 19 child care providers.
Otter Tail County ECI has moved the Summer Splash program online, which allows more children access to the program. Teachers lead fun, educational activities using items that anyone can find in the backyard or park.
"Early Childhood Initiatives are helping children stay active and healthy this summer," said Jost. "The teams have done an incredible job adapting and creating new ways to help child care providers and connect with children."