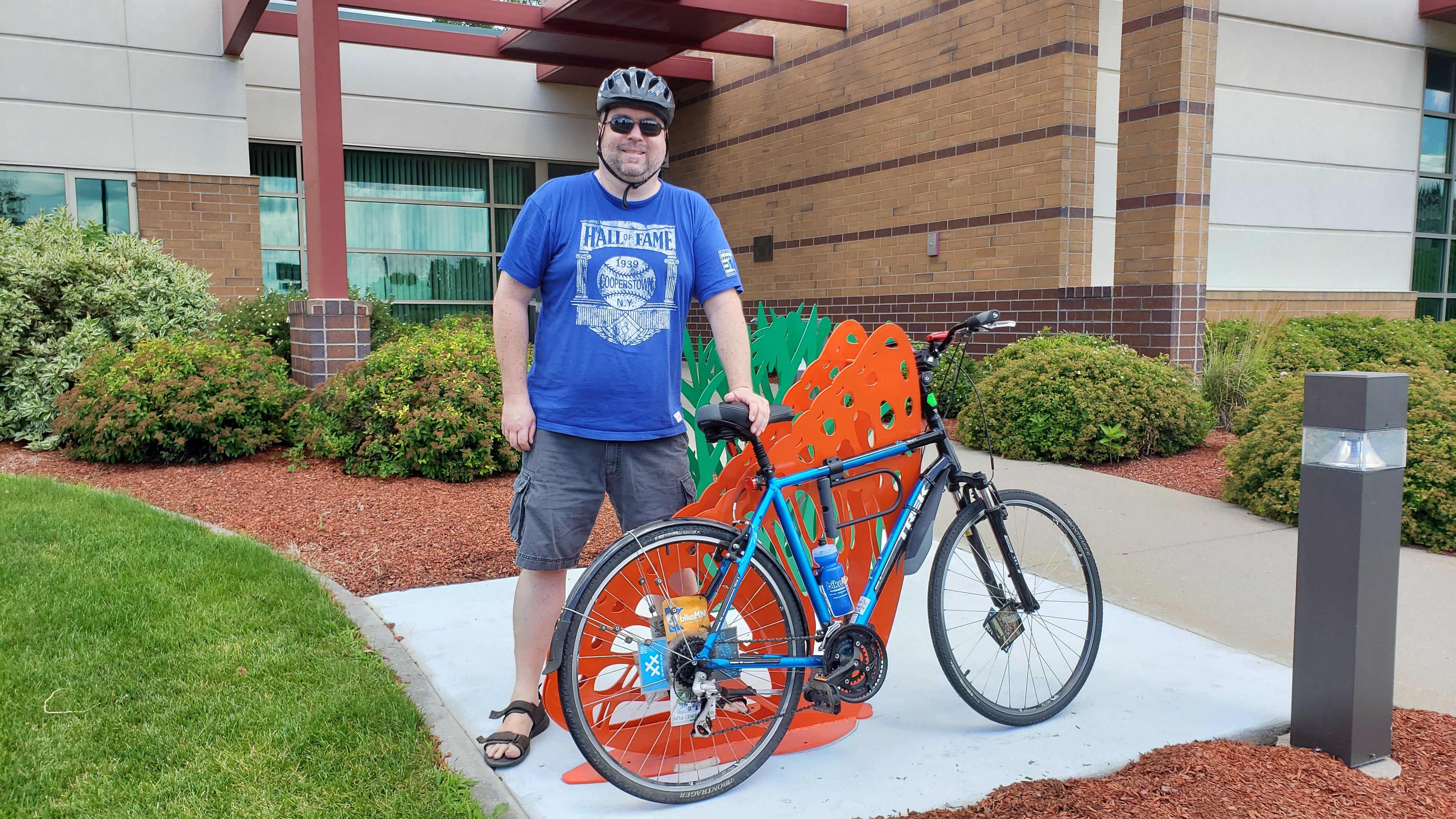 As part of West Central Initiative's (WCI) ongoing efforts to be a bicycle friendly business, we recently added two new sculptural bike racks in front of our building.
These artistic bike racks, metal prairie grass and butterfly wings, were designed and constructed by Fergus Falls artists Naomi Schliesman and Carl Zachmann. WCI's Director of Planning, Wayne Hurley, initially worked with Carl and Naomi to design these sculptural bike racks for placement at various locations in and around downtown Fergus Falls.
The original idea was to install the bike racks near arts organization offices downtown. As the project moved forward, other business owners and organizational leaders, such as West Central Initiative, expressed interest in having these beautiful (and functional) sculptural bike racks at their locations.
The idea took hold and Naomi and Carl went to work. Today you can find the sculptural bike racks at the Fergus Falls Public Library, Otter Tail County Historical Society Museum, and at Noyes Park in Fergus Falls. And you'll see the latest installment at WCI's offices on the west side of the city.
The original project was made possible by the voters of Minnesota through grants from the Lake Region Arts Council (LRAC), thanks to a legislative appropriation from the Arts and Cultural Heritage fund. While WCI's bike racks were not included as part of the LRAC grant, we saw value in improving our bike parking while adding some whimsical, welcoming art to the front of the building.
And the grass/butterfly theme fits as this summer a new pollinator garden is underway!
WCI is nationally recognized by the League of American Bicyclists as a Gold-level Bicycle Friendly Business. Since we've received that designation, we've also added a shower in the office to make it easier for bike commuters to prepare for their day. We've also partnered with the Bigwood Event Center across the street to add a public bike repair station to the neighborhood.
If your business would like to become more bike-friendly, contact WCI's Wayne Hurley for more info.
And when the time is right, feel free to bike on over!