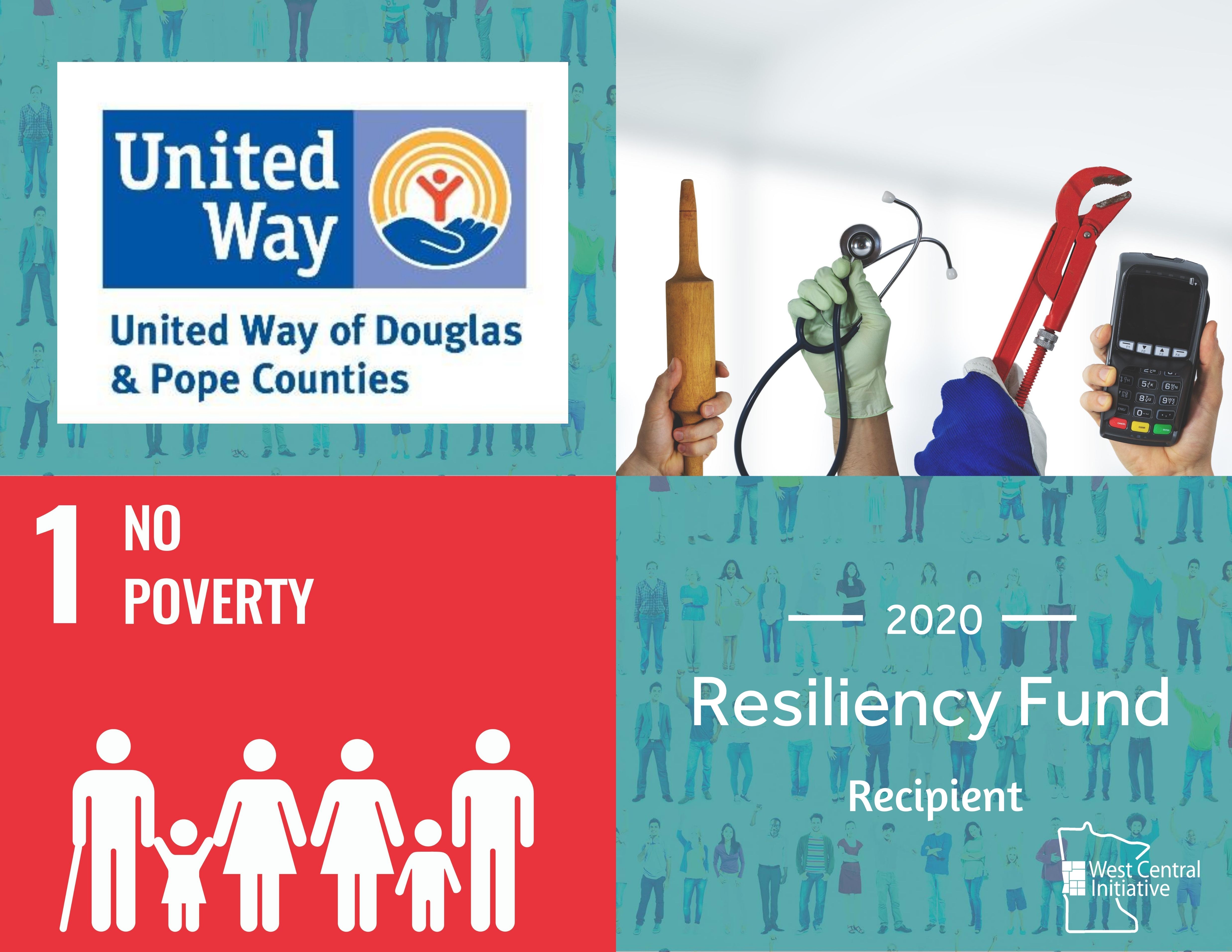 When United Way of Douglas & Pope County (UWDP ) began the Equipped to Work program in 2017, it had no idea that a global pandemic would make its services essential for many people. Unemployment has reached more than 8% in Douglas and Pope Counties. With help from a West Central Initiative (WCI) Resiliency Fund grant, Equipped to Work is helping people learn skills and find jobs. The program also received a WCI Workforce Solutions Grant in 2017.
The Equipped to Work program is powered by Rural Minnesota Concentrated Employment Program (CEP). Together, UWDP and Rural Minnesota CEP prepare workers to reenter the workforce by providing them with the tools they need to get and keep a job. The program provides skills training, helps fill out applications, and helps perfect resumés. Today, because of the COVID-19 pandemic, Equipped to Work is prepared to provide personal protective equipment (PPE) to participants, if needed.
Equipped to Work helps with transportation in the form of gas money, bus passes, and car repairs. "We had a client who had an upcoming job interview but had no way to get there because their car was broken down," said Jen Jabas, United Way Executive Director. "We helped them with the car repairs, and that client went on to not only get the job but keep the job and eventually was promoted to management."
Jabas pointed out that Equipped to Work not only helps those who are unemployed, but also helps local businesses, "We're helping local business hire qualified employees that they otherwise would have missed out on."
West Central Initiative has adopted the 17 United Nations Sustainable Development Goals (SDGs) and asked those applying for the Resiliency Fund to identify the SDGs that align with the applicants' plan for the funds. UWDP identified No Poverty as an SDG that aligned with their plan for the grant.  "The United Way focuses on health, education, and financial stability," said Jabas. "We can reduce poverty by helping individuals gain financial stability through employment."
Jabas believes that resiliency takes collaboration and partnership. "When we work together, we're able to help more people than we could have helped by ourselves," said Jabas. With the help of Rural Minnesota CEP and West Central Initiative, the United Way of Douglas & Pope Counties' Equipped to Work program is well on its way to helping the unemployed in the region get back on their feet.
If you would like to learn more about United Way of Douglas & Pope Counties, visit: uwdp.org
To learn more about Rural Minnesota CEP, visit: rmcep.org
To donate to the WCI Resiliency Fund, visit: wcif.org/resiliencyfund