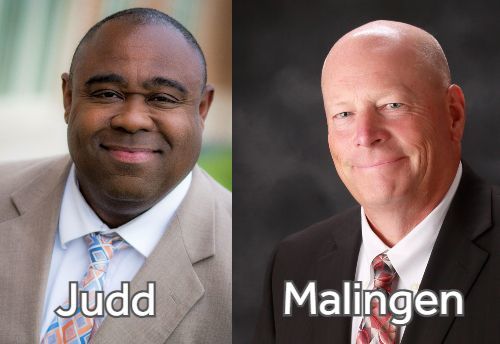 West Central Initiative (WCI) welcomes Johnathan Judd of Moorhead and Mark Malingen of Alexandria as new members of its Board of Directors.
Board members represent a cross-section of the nine-county region served by WCI for nearly 35 years, says Anna Wasescha, President/CEO. "Jonathan and Mark bring remarkable experience and leadership to our organization," said Wasescha. "Through their actions, they have demonstrated a commitment to strong, inclusive communities in our region and bring experience that can help us move our mission and vision forward."
Johnathan Judd represents Clay County on the board. He will soon complete his second term as Mayor of Moorhead. Judd earned a law degree at the University of North Dakota and worked as both a county prosecutor and a public defender. He is Director of Equity and Inclusion at M-State, Moorhead, and a practicing attorney. He and his wife Tammi have three children.
Johnathan is a champion of holding tough conversations on regional diversity, equity, and inclusion topics, aligning with WCI's goals.
"My hope is to tell people it's okay to have these conversations, we will take you as you are. We are on this journey together." Listening with humility is critical, he said. He believes that those uncomfortable conversations can build relationships that lead to understanding and change.
Mark Malingen represents Douglas County on the board. He serves as Market President for Glenwood State Bank in Alexandria and First National Bank of Osakis. He is the in-coming President for the Alexandria Rotary Club. He and his wife Stephanie have two sons.
Mark has lived and worked in several west central Minnesota communities. "For many years I have recognized West Central Initiative as a great asset," he said. "I witness first-hand the benefit to west central Minnesota through West Central Initiative's programs, funding resources, and planning expertise that make this region strong.
"Our region is diverse," he continued, "and WCI provides a very diverse range of services. Having the opportunity to serve on the WCI Board of Directors is a privilege, and I look forward to the opportunity to help west central Minnesota thrive and prosper."
West Central Initiative is a regional community foundation serving the nine west central Minnesota counties of Becker, Clay, Douglas, Grant, Otter Tail, Pope, Stevens, Traverse, Wilkin and the portion of White Earth Nation in Becker County. WCI invests resources in communities for regional success, using the tools of economic development and community development and by promoting philanthropy. Learn more at wcif.org.