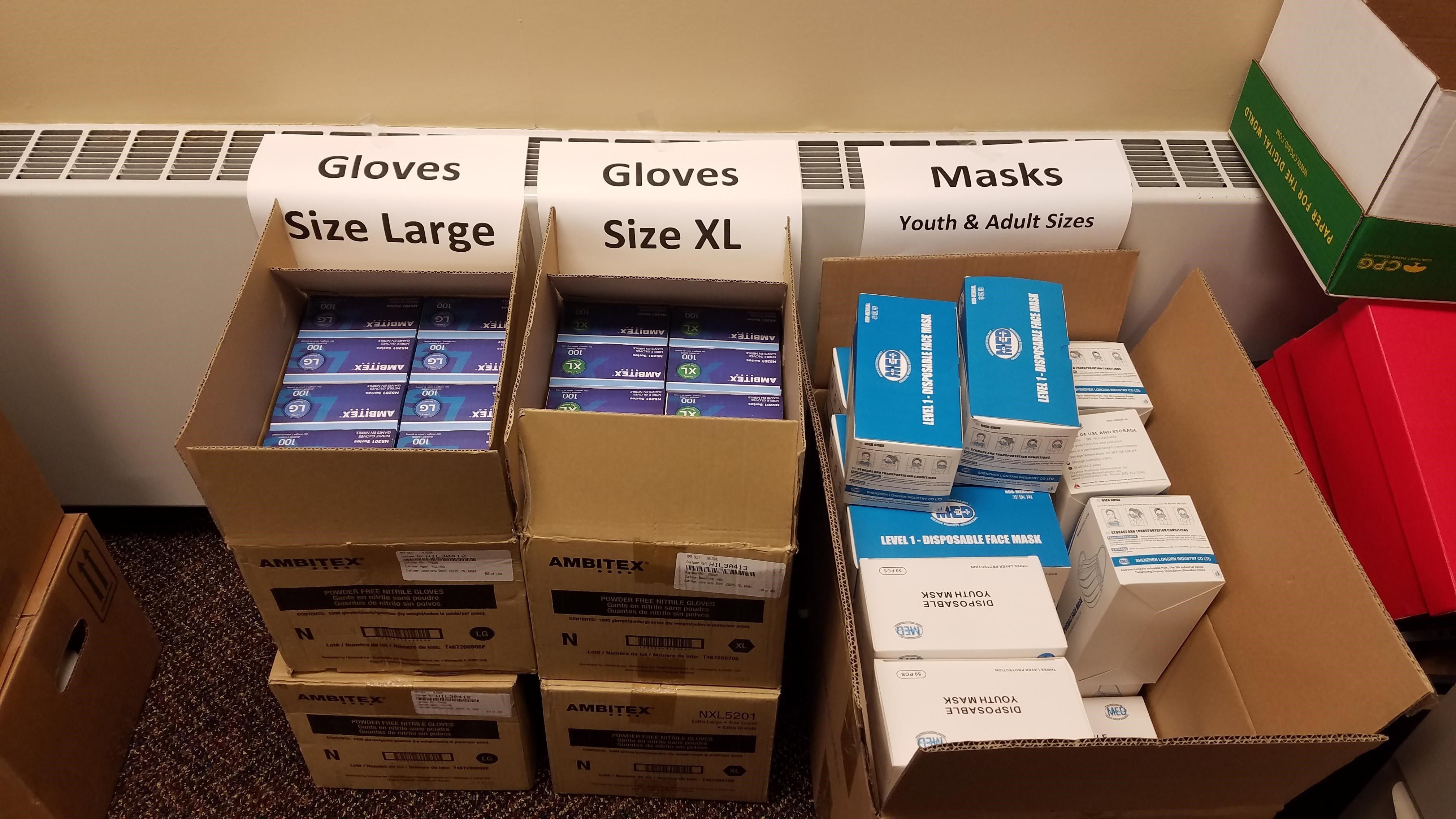 It's the holidays. Connie stood staring at the piles of boxes.  Jeannie giggled on the number of items that were crammed into her office.  Fran sprang into action - she had two counties' worth of items to sort and distribute.  Matour replied with a sincere, "Thank you for remembering our community." 
Their reactions weren't about holiday toys; yet they were thankful for these special gifts. 
You can just imagine the emotions and overwhelming response when cases of COVID-related supplies were delivered for free to their organizations through a grant received by West Central Initiative (WCI).  
WCI received a $116,000 grant from the Office of Justice Programs (OJP), a division of Minnesota Department of Public Safety, to provide COVID prevention items for at-risk youth in each of West Central Initiative's nine counties and White Earth Nation. 
The delivery for each recipient included supplies such as hand soap, disinfectant cleaner, non-latex gloves, face masks, no-touch infrared thermometers and toilet paper—lots of toilet paper—to distribute to families who may struggle to purchase or even find these items on their own. 
Indeed, these boxes made it seem like a holiday miracle! 
WCI Early Childhood Initiative coordinators, Community Action Partnership (CAP) organizations of Lakes & Prairies and Mahube-Otwa, Moorhead's South Sudanese Foundation, and Conexiones of Stevens County, joined forces to make it happen.  These partnerships provided direct outreach through community-based programs, such as food shelves, home visiting staff and holiday gift distribution. Each community also provided supplies to foster families who may be caring for additional children due to COVID, and the stresses related to it. Even sleeping cots made the list of needs. 
A special effort by Conexiones and the South Sudanese Foundation featured outreach and translations for the LatinX and East African communities. Grants provided a stipend for a youth leader and their supervisor to work through this process. 
"West Central Initiative is not usually known for direct product distribution," said Jill Amundson, Associate Planner and author of the OJP grant.  "This grant came along at a time when the positive COVID cases were increasing in our region and families were feeling the stress of the holidays, amplified with COVID."  
Marsha Erickson, Early Childhood Specialist and project coordinator added, "It took us a bit to figure out the logistics and find the suppliers who could provide this volume of products. Once we had the process down, we were able to make it work in each of our counties and White Earth," she said.
"We know that disinfectant cleaner, thermometers and disposable facemasks are not on many peoples' gift list, but it was great to be able to ease families' anxiety of how to purchase these items," Erickson added.